Tre'Davious White pays it forward with Adidas shoe giveaway on the Cooper Rd.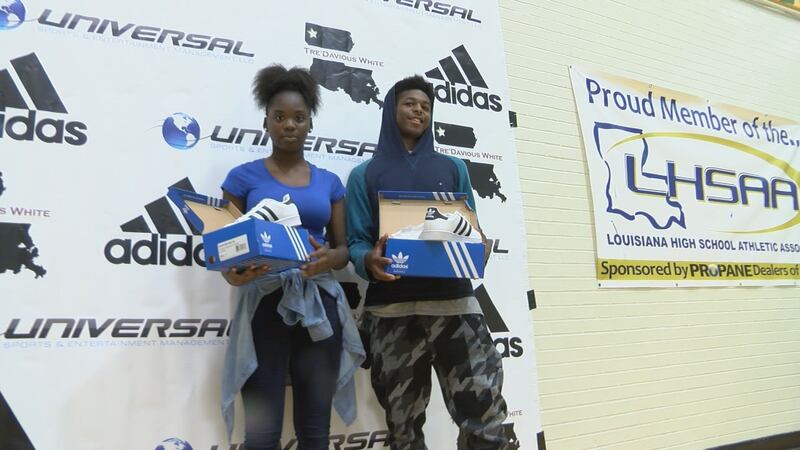 Updated: Sep. 23, 2017 at 4:10 PM CDT
SHREVEPORT, LA (KSLA) - Muhammad Ali, the greatest of all time, once said "service to others is the rent you pay for  your room here on earth."
Shreveport's Tre'Davious White put a little more on his rent Saturday with his Adidas shoe giveaway at his alma mater Green Oaks high school.
The former LSU Tiger and current Buffalo Bills rookie paid it forward today, giving away almost 200 hundred pairs of brand new Adidas to students from Pine Grove elementary, Northside elementary and Green Oaks.
T-White's mother, La'Shawnita Mayo, says Tre'Davious called her with the idea at the beginning of the season and after months of planning she, others members of the family and a few volunteers were able to pull it off.  White is giving back to the Cooper Rd. community which he says gave so much to him.
Mayo said, "I thank God that my son was able to reach out and help another child, that's a blessing. When God bless you, then you share your blessing and it goes on and on and on. You'll get blessed for what your doing for the kids. He has upcoming events, upcoming giveaways going towards the end of the season and the holiday season so just stay tuned."
Tre'Davious wasn't able to be there, as the Bills get ready for their game against Denver on Sunday.  However, he did call in on Facetime to check in and see how things were going.
Copyright 2017 KSLA. All rights reserved.