Pathologist: Slain airman was rapidly stabbed multiple times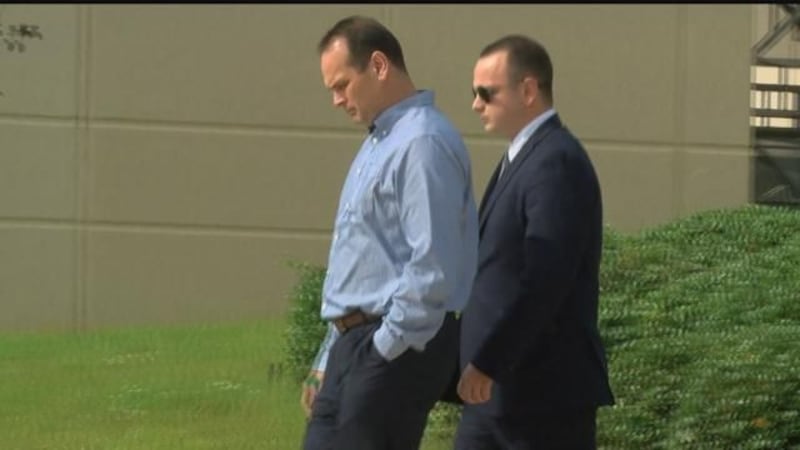 Published: Jun. 20, 2017 at 8:43 PM CDT
|
Updated: Jun. 20, 2017 at 9:14 PM CDT
BENTON, LA (KSLA) - A pathologist testified Tuesday that a Barksdale Air Force Base airman died after being stabbed multiple times in rapid succession.
His comments came during the third day of the trial of the man accused of fatally stabbing 34-year-old Tech. Sgt. Zechariah Casagranda during a fight Jan. 23, 2016, outside a Bossier City nightclub.
Benjamin Shaw, 21, is being tried on a charge of second-degree murder.
People involved in the fight have testified that it lasted only 10 seconds.
Dr. Frank Peretti told jurors Tuesday that was enough time for Casagranda to be stabbed as he was.
One of Shaw's friends in that fight, Jose Rodriguez, testified last week that Casagranda stepped back at the end of the fight holding his neck and saying he'd been stabbed.
Peretti cited that wound in Casagranda's left carotid artery as the killing blow.
Bossier District Court jurors Tuesday also heard from law enforcement officers who responded the night of the fatal fight.
Bossier City Police Officer Hunter Timms testified that he responded within minutes and was the first officer to arrive after Casagranda was stabbed.
"What did you see?" prosecutor Andrew Jacobs asked.
"Male subject laying on his back with blood around him," Timms replied.
The officer testified that he then checked Casagranda's wrist and neck for a pulse.
The airman was breathing quickly and his condition quickly worsened, Timms said.
"Shortly after my arrival, he stopped breathing. ... I started administering chest compressions."
The officer testified that he only stopped to grab his AED unit, cut open Casagranda's shirt with his knife and apply the pads.
However, Timms said, his AED registered no charge so he continued performing chest compressions until emergency crews arrived.
When he was relieved, Timms said he then was ordered to begin tracking down potential witnesses to the stabbing.
"Heavily covered in blood from the subject," Timms described himself.
Shaw's attorney, Jose Baez, well-known for his defense of Casey Anthony, then questioned the evidence-gathering process at the scene.
Baez showed the jury a Bossier City police property release receipt used to release an item that has been collected into evidence.
The form dated Feb. 1, 2016, was for Timms' AED unit.
Baez asked why Timms why the knife he used to cut open Casagranda's shirt was not collected into evidence.
According to Timms, his knife was "covered in blood at that point."
Baez argued that any evidence on Casagranda's shirt could also have been transferred to the knife.
Timms testified that crime scene investigators asked him if it was his knife and he responded that it was and they did not collect it.
Baez then showed jurors crime scene photographs of a trail of blood leading to Timms' police unit.
He asked Timms if investigators asked him to move his car so they could check for evidence underneath.
Timms said they did not.
"You don't know if there were any items that were removed," Baez said to Timms.
"I did not inventory any items after rendering aid," Timms said.
Copyright 2017 KSLA. All rights reserved.