Police officer pay fuels debate in Minden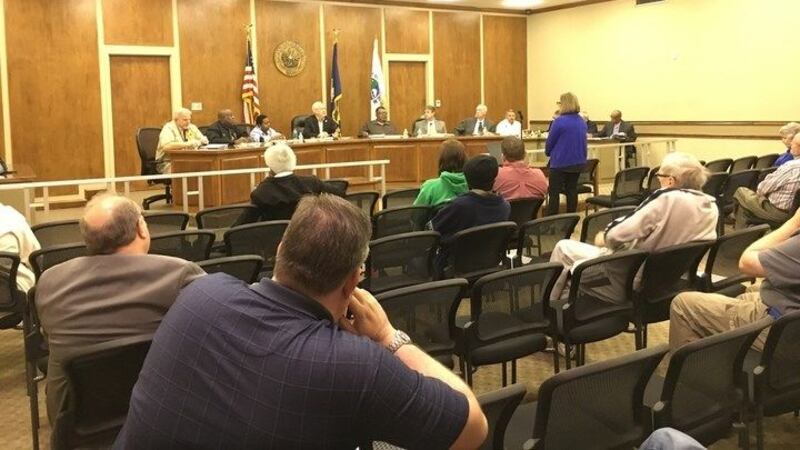 Updated: Feb. 6, 2017 at 6:12 PM CST
MINDEN, LA (KSLA) - A lack of money has good officers leaving an ArkLaTex police department.
Now its police chief is taking his frustration to social media and his City Council. And some officers and residents are backing him up.
About a week ago, KSLA News 12 first noticed Minden Police Chief Steve Cropper's post on Facebook about an internal battle with city officials over pay and concern over losing more officers because of it.
At least four officers have resigned from the department since December. Each of them cited low salaries as the reason, Cropper told KSLA News 12.
The police chief had held off talking one on one with KSLA News 12.
But on Monday, Minden residents took their concerns to the City Council to show their support for the officers.
"These guys here, the guys that are working right now, the guys that are home asleep because they worked all night last night, we're the backbones of the city, plain and simple," one officer said in front of council members.
Some within Police Department say officers' low pay and lack of raises are causing officers to find jobs elsewhere.
Many struggle to put food on the table while putting their lives on the line to serve and protect the city, they said.
"We know they're not making enough money, we know that," District E Councilman Benny Gray responded.
Business owner Tommie Clanton finds the police force's retention issue to be alarming.
"It scares me that he's not or she's not going to have that backup when they need it. That puts the officer at risk; it puts the public at risk."
She's also concerned about the city's quality of life if the Police Department continues to lose officers.
"If somebody doesn't feel safe about coming to Minden, that makes me nervous. That means our sales are going to go down, our sales are going to hurt."
District A Councilman Wayne Edwards explained that it's going to be a process. "It's not something that can be handled in a council session."
Edwards wants to see a bump in pay across the board.
"We have to remember we have other city employees in the same position as our police officers, maybe not the point to be hazardous, but the actual income. And we want to work to better the situation for all Minden city employees."
Like his counterparts, however, Edwards said the city has no additional funding from which to to pull.
"The bottom line is we need to make sure whatever we do, we can afford it and we stay within budget and it's sustainable."
Cropper told KSLA News 12 he doesn't want to address the issue on camera until he has the opportunity discuss his proposal for an incentive program.
He posted in the Back Your Minden Blue support page on Facebook that his plan would help boost officers' pay and not cost the city a whole lot of money.
The police chief was supposed to address the City Council on Friday, but that meeting never happened.
The City Council will hold a work session Thursday to further discuss Cropper's idea and others'.
Copyright 2017 KSLA. All rights reserved.