ArkLaTex continues shows of support for law enforcement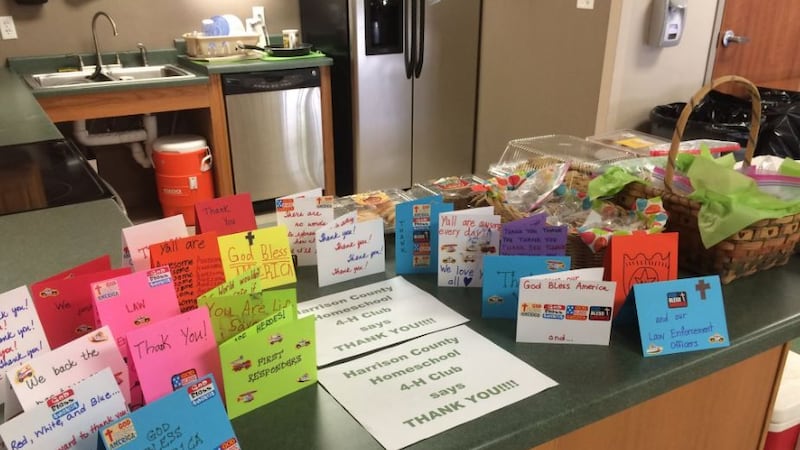 Published: Jul. 18, 2016 at 1:55 AM CDT
ARKLATEX (KSLA) - Signs up support for men and women in blue in the ArkLaTex are popping up amid attention to shootings involving law enforcement in Baton Rouge, Dallas and elsewhere in the United States.
On July 17, people could be seen along Youree Drive holding signs that read, "Free water and Gatorade for Shreveport Police Officers." The simple act of kindness came just hours after three officers were killed and others were wounded in Baton Rouge.
"I saw what happened on the news in Baton Rouge, and I was just distraught," participant Deanthony Lewis said. "I was actually in church service, and I felt compelled to do something today. So we came up with the idea that we were going to hold signs. We're just going to show them love."
Lewis said July 19 that his group will hold another gathering at 6:30 p.m. that date in the vicinity of Youree at Regal drives in southeast Shreveport.
They aren't the only ones who recently have been "showing love" to ArkLaTex law enforcement officers.
Several agencies from Natchitoches Parish, to East Texas and all the way up to Southwest Arkansas have posted pictures of support from citizens.
In Natchitoches Parish, residents delivered sweet treats, cards, text messages, calls and other goodies to the men and women in blue.
Perhaps one of the most unique gifts came from Natchitoches Parish resident Stephanie Guerrero, who delivered a peace lily to the sheriff's office.
While assisting in East Baton Rouge Parish last week, Bossier and East Baton Rouge sheriff's deputies were visited by children and given gifts and cards, thanking them for their service.
The Bossier City community also has been showing support for law enforcement.
"Anytime you lose a brother and sister in law enforcement, it hurts; it really does," said Bossier City police Officer Steven Wood, who says some people and businesses have gone out of their way to say kind words to officers.
"I've gone out to eat on my meal break and someone at the restaurant has bought me dinner," he said. "We've had a lot of people bring stuff to the station." That has included everything from cookies to sandwiches. "It does mean a lot."
KSLA News 12 caught up with Texas Roadhouse marketing managers Sara Price and Whitni Coker as they were delivering fresh bread and drinks. "We just wanted to make sure they know we are thinking about them, and they have a place they can come and feel supported," said Price.
"It feels good to know the community has our back," said Wood.
Prepped Up owner Megan Ellis invited police officers in for a meal and delivered food to other departments outside the city. "We actually had a lot of people donate to us to provide everybody with food. We don't want them to give up on us as a community."
Ellis said they even had volunteers on hand to help cook the food, all in an effort to back the men and women in blue.
Among the acts of kindness in East Texas, Immanuel Baptist Church gave cards to Marshall police. Some businesses delivered meals.
On both sides of Texarkana, residents turned out to support their officers. Last week, Edgewood Manor grilled hamburgers, hot dogs and even had a special cake made for police on the Arkansas side.
KSLA News 12 reached out to several of agencies in the ArkLaTex last week. The general response is that such acts of kindness are welcomed and very much appreciated.
Following are examples of other shows of support for area law enforcement agencies found on social media:
Copyright 2016 KSLA. All rights reserved.