Admin: Ashdown, AR school is safe after student's alleged racist threats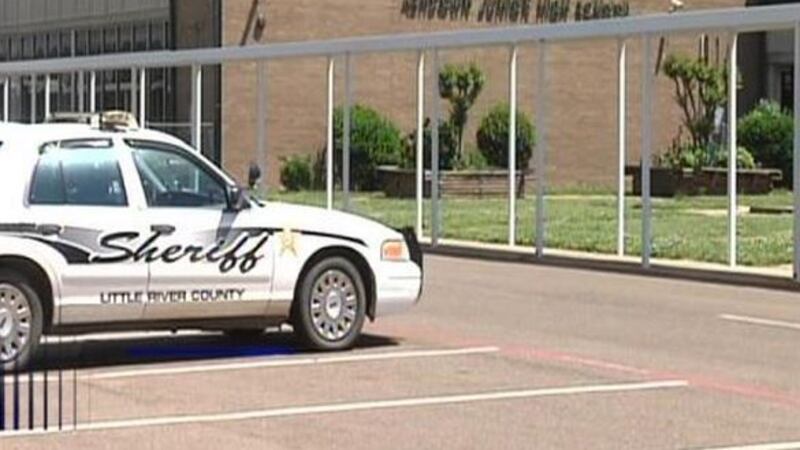 Published: Apr. 29, 2014 at 9:38 PM CDT
|
Updated: May. 13, 2014 at 9:38 PM CDT
ASHDOWN, AR (KSLA) - Things are apparently back to normal Tuesday at one Southwest Arkansas school after some students were sent home last week following alleged threats to their safety.
"Some of the other kids were concerned about him returning to school on Thursday," said Kizzy Williams, a parent of an Ashdown junior high school student.
Last week, she checked her children out of the school after an alleged threat on students by a fellow classmate.
"I got word that a student, an eighth grade student, had threatened to kill all the black kids at noon," Williams said.
When the school administration was made aware of the alleged threats, the Little River Sheriff's Office was notified.
"One of them noticed he had some racial writings on his arm," said Deputy Stephanie Boyers. "To me, a kid running off at the mouth is saying, 'I'm going to kick your butt.' He was pretty specific about what he did and this is why we took it so serous and we decided to charge him the way that we did."
Ashdown Schools Superintendent Mike Walker said his district is not taking this situation lightly.
"Anytime you are making a threat, whether it is racially intended or not, it is just a bad situation," he said.
The school has taken disciplinary action against the student, but Walker said he cannot give any specifics.
"I feel confident that we are in the bounds of what we can do and the kids are safe here," Walker said.
For Kizzy Williams, this serious situation means the safety of her kids' safety is priority number one.
"We as parents, our jobs is to keep our kids safe and we can't do that if we don't know what is going on in the school," she said.
Sheriff's deputies have issued the student a citation to appear in juvenile court, but a date has not yet been set. Boyers said the citation is the same as an arrest for a juvenile.
Copyright 2014 KSLA. All rights reserved.