Students ordered to cut, dye "gang related" hair styles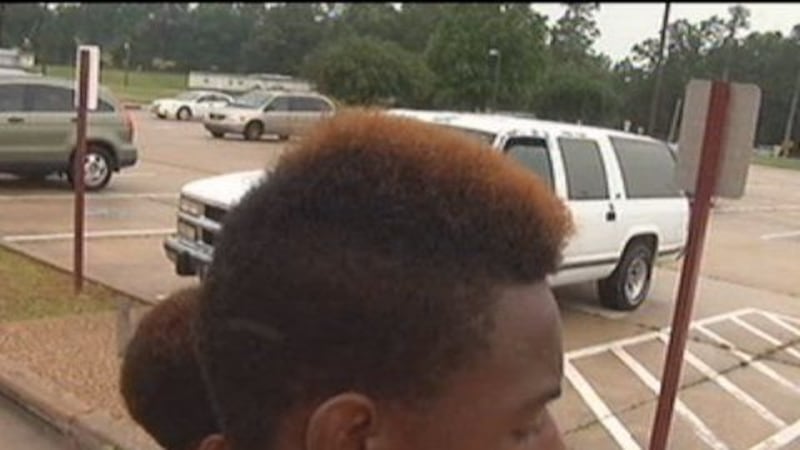 Published: May. 1, 2012 at 6:26 AM CDT
|
Updated: May. 15, 2012 at 2:37 AM CDT
LIBERTY-EYLAU, TX (KSLA) - Some East Texas parents are upset with school officials, who ordered their children's hair either be 'cut or dyed out of concern their styles could be a symbol of gang activity.
Temeka Brooks checked her kids out of Liberty Eyleau Middle School Monday, after school officials ordered them to dye their hair black or cut it off.

"All of a sudden a month before school, cut it off, because of issues with gangs here. And I don't think it's right."

Tameka's sons, Darren and Carlus, are among several students with a reddish-color streak in their hair. It's a look that Superintendent Nick Blain says is associated with a gang in the Texarkana area, even though the students being asked to remove the color are not necessarily members of the gang.
"It was the decision coloration was tied to a gang," explains Blain. "That was based on a report we got from the police department and our chief of police."
Student Darren Willis says he dyed his hair, "because this is my personality and I like wearing my hair like this."

A spokesman for the Texarkana, Texas Police Department says they have discussed the situation with the school district, but that there was no dialogue associating the hair color with gang activity.
That's why Tameka Brooks believes "it could be racial profiling. It could be stereotyping, I think. It has a lot to do with a trend and somebody has made a mistake."
"If it was a miscall, it is a miscall on the side of safety and if it is not a miscall, then we have taken the right action," says Blain.
Parents like Latoya Ricks say they will abide by the district's decision, although reluctantly. "Well, I guess I am going to get him a haircut, but this whole ordeal just, I don't know..."

The superintendent says students who do not remove the dye will be put in an alternative education program.
Brooks says she is looking for another school district for her sons to finish out the school year elsewhere.
Copyright 2012 KSLA. All rights reserved.