Anchor
Baton Rouge, La.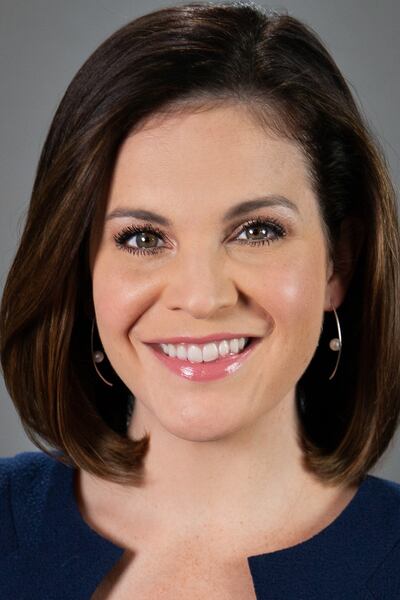 Elizabeth Vowell grew up in a small, rural Mississippi town where not a lot ever happened.
"Gossip columns, school and church announcements, and hunting trophies made up the vast majority of headlines in the local weekly paper," she said. "But, in that small town was the compulsion to share stories. Every person, from the deputy who directed traffic near the school to the group of elderly veterans who sat and sipped coffee every morning at the local pharmacy to the lady behind the serving counter of the butcher shop, would stop and share epic tales of life disguised as mild mannered daily anecdotes. These natural storytellers shaped my early life, ingraining that same desire to communicate and connect."
Elizabeth attended the Meek School of Journalism and New Media at the University of Mississippi where she was further exposed to a rare collection of talented and experienced journalism professors. Also a student of the Sally McDonnell Barksdale Honors College, she had access to a series of respected and influential mentors including writer Curtis Wilkie, documentarian Michael Farrell, and broadcaster Tom Brokaw.
As a student, Elizabeth was given opportunities to cover and interview figures like former Secretary of State Colin Powell and Nobel Laureate Elie Wiesel, and intern with the 2008 Presidential Debate Commission, CNN, and WTOK-TV.
Elizabeth graduated in 2010 with honors, completing a senior thesis on the influence of social media.
Her professional career began at WLOX-TV in Biloxi, Mississippi. During two years at the ABC affiliate, she worked as a multi-media reporter covering breaking news, severe weather, and continuing events like the BP Oil Spill. Within her first year, she took over the weekend anchor desk and oversaw weekend assignments.
In 2012 she moved to Baton Rouge to join WAFB. Since then she has worked as a reporter, covering breaking news and major events like the historic 2016 flooding and protests following a police involved shooting in July 2016 and the weekend anchor.
Elizabeth is now an anchor for 4, 6 and 10 anchor.
Contact Elizabeth via email at evowell@wafb.com.
Education
University of Mississippi: Broadcast Journalism
Awards
LAB Reporter of the Year
AP awards for reporting