Bossier Schools names Students and Principals of the Year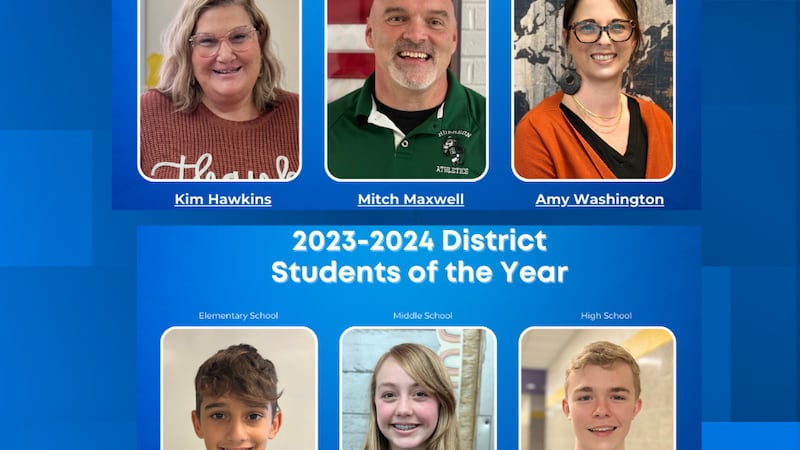 Published: Nov. 16, 2023 at 5:21 PM CST
BOSSIER PARISH, La. (KSLA) - Three school leaders and three students from Bossier Parish were chosen as Principals of the Year and District Students of the Year, respectively.
The news release from Bossier Schools reads:
Three outstanding administrators received a surprise visit by Bossier Schools Superintendent Mitch Downey, who delivered the news that they will represent the district as its 2024-25 Principals of the Year and advance to the next level of the Louisiana Principal of the Year competition.
Kim Hawkins was chosen as the Bossier Parish Elementary Principal of the Year. This is her fourth year as principal at Benton Elementary, which recently received an 'A' letter grade from the Louisiana Department of Education. Hawkins began her educational journey as a substitute teacher 16 years ago. After earning her alternate certification, she worked as a teacher at Apollo and Plantation Park Elementary Schools and Greenacres Middle, then began her ascent in administration as Instructional Coach at Legacy and Assistant Principal at Plantation Park.
Veteran educator Mitch Maxwell is the principal at T.O. Rusheon Middle School and Bossier Parish Middle School Principal of the Year. Maxwell began his teaching career 23 years ago at Cope Middle School, where he was named Bossier Parish Middle School Teacher of the Year. Maxwell has also won national awards and is an inductee in the Wall of Tolerance in Montgomery, Alabama, for promoting racial equity and tolerance in the classroom. His administrative roles have included Curriculum Coordinator for the district, Assistant Principal at Rusheon and Principal at Waller Elementary before moving into his current position at Rusheon.
Amy Washington is Principal of the Bossier Parish School for Technology and Innovative Learning (BPSTIL) and the Bossier Parish High School Principal of the Year. Career and Technical Education (CTE) is her passion and it shows with the growth of course offerings and the eighth grade academy now in its second year at BPSTIL. Washington has been a public educator for 21 years, starting as a chemistry and physics teacher at Bossier High before transitioning into administration at BPSTIL. This is her third year as principal.
"These principals embody the best of Bossier Parish, demonstrating incredible vision, innovation and leadership," said Superintendent Downey. "Their influence is evident by the immensely positive impact they have had at their schools. They are fully invested and that is reflected among the faculty and staff and in student achievement."
The three school leaders will now compete against principals from districts throughout Louisiana. The statewide winner will be announced in July 2024 by the Louisiana Department of Education and will serve as Principal of the Year for the 2024-25 school year.
A sports enthusiast with dreams of being a Major League Baseball player; a singer who loves performing on stage and learning different languages; and the Louisiana 4-H President with a passion for impacting positive change. These narratives provide a small glimpse into the lives of the 2023-24 Bossier Parish Students of the Year.
Bossier Schools Superintendent Mitch Downey and district leaders surprised three students today in their classrooms with the news they will represent the parish as they advance in the Louisiana Student of the Year competition. Chosen for their academic excellence, community service and the leadership skills each demonstrates, this is the highest honor bestowed on students at the district level. Meet the Bossier Parish Students of the Year:
Zach Cryer is a senior at Benton High and the Bossier Parish High School Student of the Year. Cryer currently serves as the Louisiana 4-H President, a platform that has enabled him to travel to Washington D.C. to discuss the importance of environmental issues in the state. He takes serving others to heart, having volunteered thousands of hours with his church, foster care ministries, Bossier Teen Court and founding clubs at his school. Cryer cites the words of baseball legend Jackie Robinson for his own life's outlook: "A life isn't significant except for its impact on other lives."
Addalynn Allen is the Bossier Parish Middle School Student of the Year and an eighth grader at Cope. Music is a big part of her life and she is an avid reader, writer and enjoys learning Spanish. As a member of her school's Youth Legislature, Allen has introduced a bill to assist disadvantaged families with school supplies and uniforms for their children, saying "I strive to be a light in the darkness and be kind to everyone, even if that makes me stand out."
Levi Beverage is a fifth grade student at Benton Intermediate School and the Bossier Parish Elementary Student of the Year. The middle child of five siblings, Beverage says being part of a big family has taught him a lot about life. "I see that we are all different, but different doesn't make us unequal. It makes us all unique and special." The 11-year-old loves attending church, fishing, playing baseball and being the ball boy for the Benton High School football team. He hopes one day to play college sports and be an MLB player and help children with needs.
The Louisiana Department of Education will name the 2023-24 State Students of the Year in each category at an awards ceremony in April 2024.
Copyright 2023 KSLA. All rights reserved.