Craftsman gifts deer stand to Red River County teen who bagged massive buck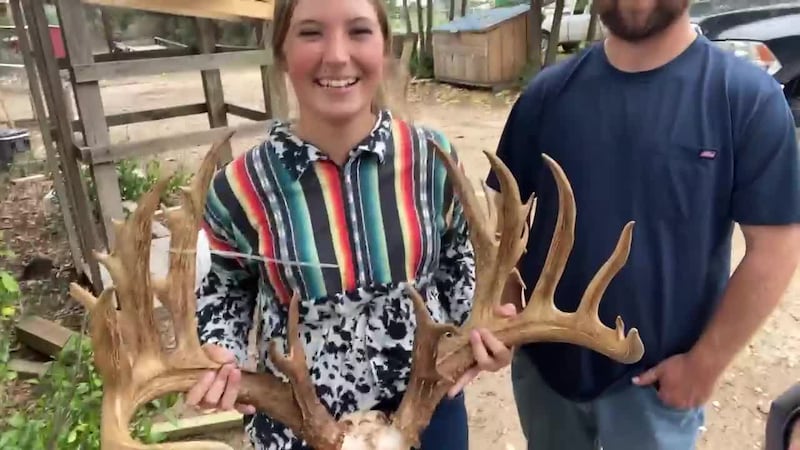 Published: Nov. 13, 2023 at 4:10 PM CST
|
Updated: Nov. 13, 2023 at 6:55 PM CST
PANOLA COUNTY, Texas (KLTV) - She's 14 years old and shot the big one. Reili Brewer may become the new youth state record holder for recently harvesting a 31-point buck. And a Panola County business owner was so impressed with her hunting skills they gave her a brand-new deer stand.
Reili was hunting with her dad, Rickey Brewer on federally managed land in Bowie County in late October. She didn't have rain gear so was wearing Rickey's. By about 6 p.m., Rickey was cold and wet.
"So, I said I'm going to go get in the truck and I'll be back down here in a minute. So, when I got back to the truck, she texted me and said I'm going to stay until 6:40, which is too dark to shoot by 6:40," Rickey said.
Then he heard a shot and started running to the tree stand about 300 yards away.
"I figured she'd shot the other one that we had been hunting, not this one. We'd only seen him one time in the daylight," Rickey said.
For three years Rickey had been chasing that buck that he calls Ol' Monroe. Reili said she had spotted Ole Monroe near a tree.
"And he shook, and you saw the water fall off of his horns. I'm telling you it was the most amazing thing I've ever seen. That is when I started freaking out," Reili said.
She knew she had to use her dad's advice and calm herself.
"Breathe in and I barely squeezed the trigger and bam!" Reili said.
Rickey didn't mind that his daughter bagged the big buck. He's proud of her. And when Boon Dock Ranch and Sawmill Owner David Aguilar took a look at Facebook a couple days later he saw:
"A picture of a little 14-year-old girl with the biggest, most massive buck I'd ever seen in my life. It was a 31-point buck. They said it was likely to be the next state record," Aguilar said.
Since David builds deer stands, his wife had a suggestion.
"So, my wife said yeah, we probably need to give this little girl a deer stand," Aguilar said.
David contacted Rickey and said that:
"It was very impressive for anyone to shoot a deer that size much less a 14-year-old girl," Aguilar said.
And Rickey hitched up his trailer for pick up.
"It's a lot nicer than the ones that we have, I can tell you that. And it'll keep her dry," Rickey said.
And Rickey too.
"I didn't think he would just give it to me. I mean that was amazing," Reili said.
Reili said they have a deer lease near Avery, and they plan on setting up the deer stand there. Rickey said there's still time in the season for them to try it out.
Copyright 2023 KLTV. All rights reserved.