Cenla high school robotics team creates wheelchair for puppy with no front legs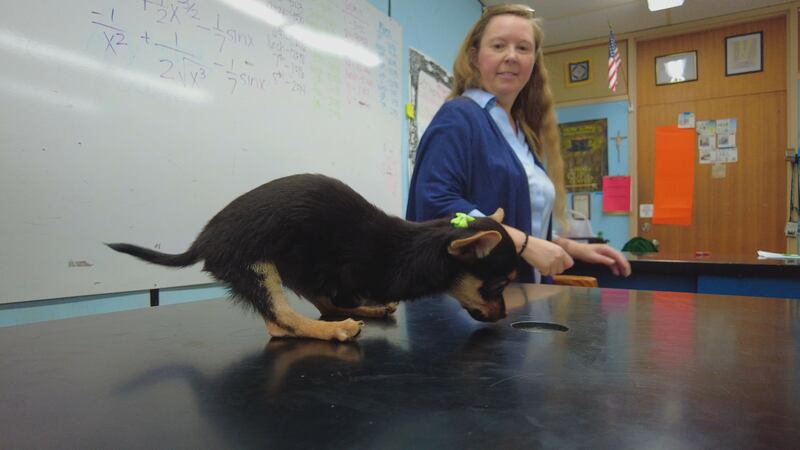 Published: Nov. 9, 2023 at 3:44 PM CST
ALEXANDRIA, La. (KALB) - A local high school's robotics club is helping a puppy who lost both of her front two legs at birth.
Holy Savior Menard Central High School is helping out a three-month-old puppy by giving her the chance to have a better quality of life - with the help of the school's robotics team. "Kanga-Roo", or "Roo" for short, was recently brought to the Heart of Louisiana Humane Society in Alexandria for adoption.
"We had an elderly couple that reached out to us they had a male and female, older dogs that had not been altered, that had a litter of puppies, one of them being Roo, she was born without front legs," said Kristy Royall, vice president of Heart of Louisiana Humane Society.
Royall says the elderly couple was told several times that she probably should be euthanized and that she wouldn't have a very good quality of life.
"When we saw her, we just knew that we would be able to help her," Royall said. "There's absolutely nothing wrong with her other than she doesn't have front legs."
That's when Royall took to Facebook to help find support for Roo, and it wasn't long until Tonya Shepard, Holy Savior Menard's robotics coach, wanted to help.
"It was just an ideal project for them to get involved in because it's exactly what we do in robotics is to take a problem, figure out a solution, design it, test it, all of those things," Shepard said. "But, it allows us to work with the community and do something that's really needed."
Menard's Steel Eagles Robotics Team got to work to create a wheelchair for Roo, using a 3-D printer and using design programs to visualize what the wheelchair would look like. It's a small connection that helps Roo have a better quality of life.
"There are so many things that students can learn through robotics programs that are applicable to real life," said Shepard. "And that's one of the things that getting out and working with the community is one of the things that we really strive to do."
The Steel Eagles are still in the process of creating the wheelchair through a 3-D printer. Shepard says the project is expected to be complete after the Thanksgiving holiday.
Click here to report a typo. Please provide the title of the article in your email.
Copyright 2023 KALB. All rights reserved.