East Texas homeowner runs into house fire to save pet dogs, cat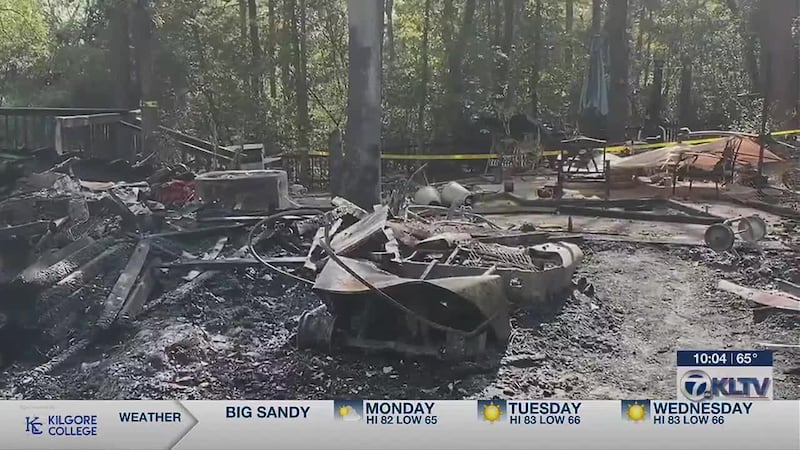 Published: Nov. 5, 2023 at 6:18 PM CST
|
Updated: Nov. 6, 2023 at 6:35 AM CST
HOLLY LAKE RANCH, Texas (KLTV) - An East Texas home was destroyed by a fire that kept firefighters tied up for more than eight hours.
Early this morning, crews finally put out the fire in Holly Lake Ranch.
Charred wood and ashes are all that remain from a roaring blaze that was in an area that is heavily wooded.
"Houses out here are very close together, first duty here was to protect the surrounding structures. This one was fully engulfed when we got here, no way to save it," said chief Bill Bollinger of the Holly Lake VFD.
"There was already flames coming up on this northwest side. I threw on some shoes, came out and started throwing water on it," said neighbor David Woodson.
In proximity to other homes, a long 8 hour fight was to keep it from spreading.
"We we're out here till around 1 o'clock in the morning," Bollinger said.
A neighbor had spotted the fire and called fire units, then called the homeowners who were gone at the time.
Before firefighters had arrived, the place had turning into an inferno, and there were pets still inside the building.
When the owner returned he went inside the burning structure and saved two dogs and a cat.
"They were bringing out 2 dogs and a cat, so they did save their pets. Thank goodness for that," the fire chief said.
But the structure, and everything in it, was lost.
"Everything. It's all right there. nothing. They don't have anything left," a neighbor said.
Early this morning neighbors began to pitch in to help.
"Burned it all up. So we're just trying to get some donations for them," Woodson says.
"We got a lot of good people out here, and a lot of good people are stopping. And we appreciate it," said another neighbor.
2 firefighters were treated for heat exhaustion and released.
Hainesville, Hawkins and Ogburn fire units aided in fighting the blaze.
Those that want to help the victims of the fire can contact 'Paula Woodson' at 'Summit Heights Fellowship church' in Holly Lake.
Copyright 2023 KLTV. All rights reserved.