East Texans walk into Shark Tank with hunting 'relief' strap idea, walk away with deal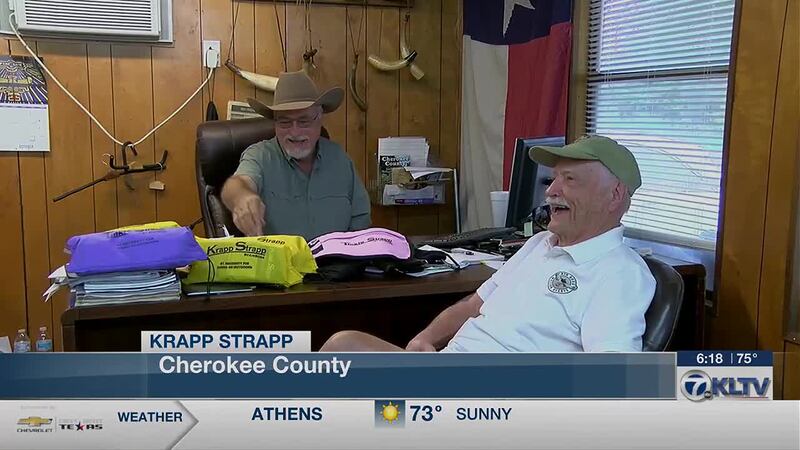 Published: Nov. 3, 2023 at 8:44 PM CDT
|
Updated: Nov. 3, 2023 at 8:51 PM CDT
JACKSONVILLE, Texas (KLTV) - Two Jacksonville entrepreneurs with a practical personal hygiene product pitched it on a popular show Friday.
Those who spend extended periods of time outdoors know there comes a time when business has to be taken care of, because eventually, nature calls. A Jacksonville company has addressed that issue with a device which they claim aids that process. They call it the Krapp Strapp, and on Friday night, they were on ABC's Shark Tank.
Air Boss Outdoors CEO Keith Lindsey and Founder Bob Legg of Jacksonville were featured on the ABC show and pitched the idea to Kevin O'Leary, Mark Cuban, Lori Grenier and Daymond John. Lindsey and Legg were asking for $65,000 for a 10 percent stake in their business.
O'Leary, a.k.a. Mr. Wonderful, passed on the idea. Mark Cuban was also out.
But, pointing to the success of Shark Tank's "Squatty Potty," Greiner and John teamed up to make an offer.
They offered the men $65,000, but wanted a 35 percent stake.
The men countered with $65,000 for a 25 percent stake; the Sharks countered again, offering $65,000 for a 33 percent stake, and the Krapp Strapp creators accepted the deal.
Lindsey and Legg, with Air Boss Outdoors, specialize in decoys with movement, such as swimming ducks or deer that wag their tail. Legg came up with the idea for the strap, and they added it to their business, thinking it would be a novelty item that would bring more business in for their decoys. However, when they posted about it on their social media in the summer of 2022, the post went viral overnight, receiving well over a million views.
They got orders for the device from that post. They manufacture them in, and ship them from, Jacksonville, and they say customers have been very satisfied.
In case you're wondering how the Krapp Strap works, Lindsey said the strap goes around a tree or post, then around the user's hips.
"It totally supports your entire weight," Lindsey told KLTV in a recent interview.
They say it can support up to 400 pounds. Lindsey demonstrated on a porch post, although he doesn't recommend using it there. At that point, the process is pretty much lean, squat and go.
He said the strap can also keep the user above dangers like "spiders and insects and scorpions."
You can check out our interview with the East Texas entrepreneurs below.
RELATED: East Texas business selling hunting 'relief' item to be featured on Shark Tank
Copyright 2023 KLTV. All rights reserved.