9 charged in connection to stolen Amazon packages worth more than $20K
Published: Oct. 20, 2023 at 6:46 PM CDT
|
Updated: Oct. 20, 2023 at 9:10 PM CDT
TEXARKANA, Texas (KSLA) - Following an almost two-month long investigation by the Texarkana Texas Police Department (TTPD), nine people have been arrested and charged with felony theft.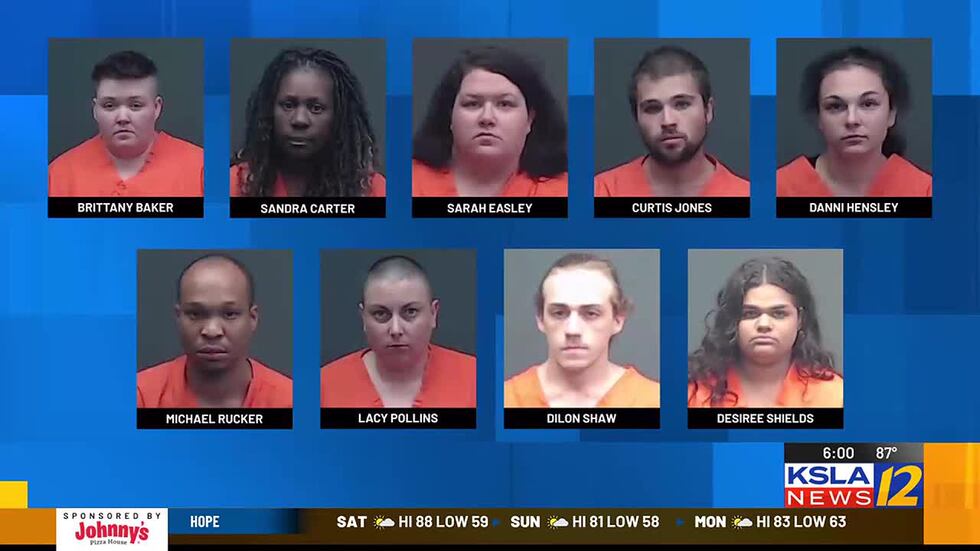 According to TTPD spokesman Shawn Vaughn, an Amazon delivery driver was supposed to have delivered nine pallets with 575 items to the Oaklawn Post Office on Robinson Road in Texarkana, Texas. However, that delivery was made to a loading dock of another business location on Robinson Road. Police said the items were taken from that location.
"By the time the post office could make arrangements and get them picked up, someone had gone through all the pallets and removed the packages that were there," Vaughn said.
Police said the business was not involved with the thefts. Employees, friends of employees, and their families allegedly took the items. The merchandise stolen over the night of Aug. 31 and Sept. 1 totaled to be more than $23,000.
"If something is delivered and you see something that don't belong to you, you should leave it alone. Don't take it, don't steal it because essentially that's what you are doing," Vaughn said.
Law enforcement has recovered nearly half of the stolen items at different locations. Texarkana, Texas police are still investigating this case and more arrests are expected in the near future.
"There are still some people we are working to identify, and once those people have been identified, we will be seeking warrants on them like we did on these nine people. And we do expect additional arrests to be made in the next few days," Vaughn stated.
Copyright 2023 KSLA. All rights reserved.