Attorney General Jeff Landry makes campaign stop at Strawn's Eat Shop Too
Published: Oct. 11, 2023 at 5:39 PM CDT
SHREVEPORT, La. (KSLA) - Louisiana Attorney General Jeff Landry, the Republican frontrunner in the race for governor, dropped by Strawn's Eat Shop Too on Youree Drive Wednesday morning (Oct. 11).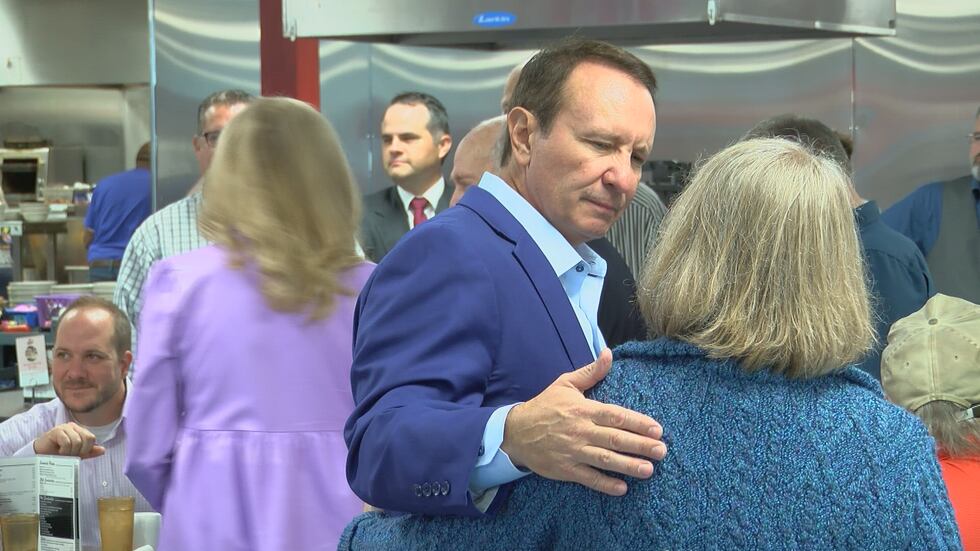 Landry's visit was part of his "Diner Dash" series of campaign stops at restaurants around the state leading up to Saturday's election.
"Well because Saturday is Election Day. It's the day everybody in Louisiana has been waiting for, certainly me. We've been preparing for it since October of last year when we announced that we are running for governor. This race for us has been about the people of this state and the vision and what they want this state to look like in 10 and 20 years," Landry said.
Landry also addressed Shreveport's ongoing police officer shortage.
"Shreveport's not alone in a shortage of police officers. New Orleans is probably about 70 percent understaffed. We hear it from sheriffs and other municipal police departments. What we do collectively is go out there and make sure those that wanna' get in law enforcement understand that their government, their community, and their state has their back. We are going to stand and support the men and women who get up each and every day and stand on that thin blue line," said Landry.
On Election Day (Saturday, Oct. 14), Landry will face off against 13 other candidates, including Democratic frontrunner, Dr. Shawn Wilson, and Stephen Waguespack, another Republican. Wilson and Waguespack both recently participated in a debate in New Orleans hosted by KSLA's sister station, WVUE. Landry declined to attend that debate.
Copyright 2023 KSLA. All rights reserved.