Sevier County's Beau McCastlain named 2024 Arkansas Teacher of the Year
Published: Oct. 9, 2023 at 9:15 PM CDT
DE QUEEN, Ark. (KSLA) - Arkansas Gov. Sarah Sanders and Arkansas Education Secretary Jacob Oliva made a surprise visit to De Queen High School on Monday afternoon (Oct. 9).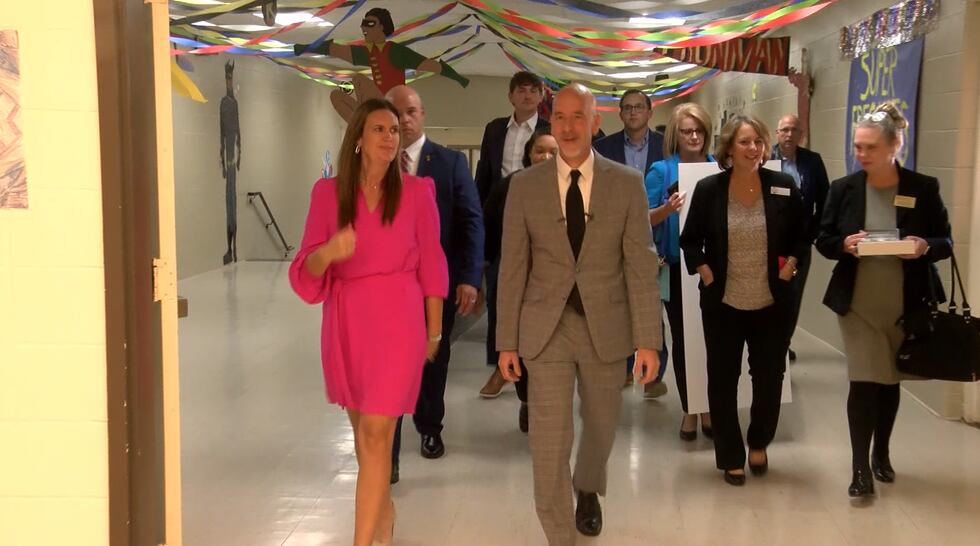 "I have the privilege of naming the 2024 Teacher of the Year, and it is your teacher," Gov. Sanders said.
De Queen High School Communications Director Beau McCastlain was named the 2024 Arkansas Teacher of the Year.
"Just so happy, happy for our kids because it honors them as well, but really happy for our district because it just shines a light on our district as well," said McCastlain.
"It is very clear why you have been named this because the very first thing you did was recognize your students and not talk about yourself," Gov. Sanders said during the award presentation.
McCastlain began his education career in 2009, but has only been with the De Queen district for three years. He currently teaches and serves as an adviser and instructor for the student-run television production program.
"We've had folks to visit us through the years to see why certain things are working within our schools; and it is not some curriculum you can package up and sell and bottle up, it's our people," McCastlain said.
Along with the award, McCastlain was given a $14,000 check.
"Awards are nice, awards are nice, but that is not why we do it," he said.
McCastlain said his goal as teacher of the year is to shine light on all the good things teachers throughout Arkansas are doing in spite of their many challenges.
Copyright 2023 KSLA. All rights reserved.