Carr back at practice on Friday; questionable to play Sunday against the Bucs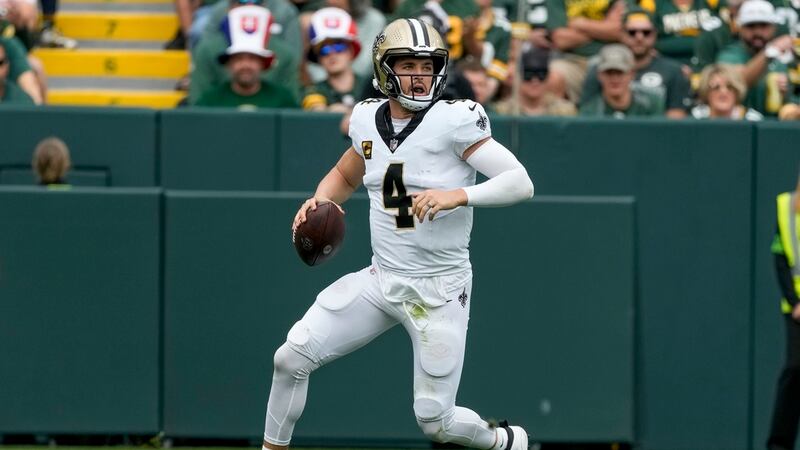 Published: Sep. 29, 2023 at 2:48 PM CDT
NEW ORLEANS (WVUE) - So you're telling me there's a chance.
Derek Carr participated in the Saints Friday practice on a limited basis. He took first team redzone reps and hit all of his targets.
He's questionable to play on Sunday against the Bucs.
Carr sat out practice on Wednesday and Thursday after suffering an AC joint sprain in his right shoulder when he was thrown to the ground in the second half of last week's game against the Green Bay Packers.
If Carr doesn't play on Sunday, Jameis Winston will start in his place.
Jordan Howden (finger), Cesar Ruiz (concussion), and Paulson Adebo (hamstring) will not play on Sunday.
Foster Moreau (ankle) is questionable for the contest.
The Saints are 3-point favorites and are 39-24 all-time against the Bucs.
The Buccaneers won both meetings in 2022 after the Saints had won the previous six in the regular season.
This Sunday will be the first game of the season for star running back Alvin Kamara, who served a three-game suspension for his role in a Las Vegas fight. Well-rested and health, Kamara was back on the Saints' practice field Wednesday, looking "explosive" in the words of coach Dennis Allen.
"I feel like college again; I'm fresh — I'm real fresh," Kamara said. "I'm happy. Y'all will see when I get out there. I'm excited — definitely, definitely excited. It's going to be fun."
Bucs coach Todd Bowles said he considers the return of Kamara a bigger development for New Orleans' offense than a quarterback change would be.
"It's going to be a chore because he's the most athletic of all the running backs they have," Bowles said, noting that Kamara's return also will make it tougher to beef up coverage of speedy wideouts Chris Olave and Rashid Shaheed. "They'll have a bit more juice in the backfield to go with the speed they have outside."
It could be a revenge game of sorts for Jameis Winston, who was drafted first overall by the Buccaneers in 2015 and played five seasons in Tampa Bay before joining the Saints in 2020. He started against the Bucs once in 2021 but suffered a season-ending knee injury in the first half.
More than once, these teams have engaged in after-the-whistle melees that resulted in ejections and suspensions.
On two occasions, matchups between Bucs star receiver Mike Evans and Saints star cornerback Marshon Lattimore were at the center of the scuffles.
"You know Marshon will be ready," Kamara said with a grin. "We're going to do what we've got to do, it just is what it is. If something happens, we'll address the issue, but it is what it is. Y'all know how this game goes."
The Saints and Bucs kickoff is set for 12 p.m. on FOX 8. Tailgate starts at 10 a.m.
See a spelling or grammar error in our story? Click Here to report it. Please include the headline.
Subscribe to the Fox 8 YouTube channel.
Copyright 2023 WVUE. All rights reserved.