Damage in Dogwood neighborhood in Bossier Parish likely caused by a downburst
Published: Sep. 25, 2023 at 8:33 PM CDT
|
Updated: Sep. 25, 2023 at 9:41 PM CDT
SHREVEPORT, La. (KSLA) - Strong storms Sunday evening downed trees and knocked out power to thousands throughout the ArkLaTex. One of the hardest-hit areas was in the Dogwood neighborhood in Bossier Parish near Red Chute. Numerous large trees and tree limbs were brought down, and some structural damage occurred in this area during a burst of strong wind around 10 p.m. Sunday.
After consulting with the Shreveport National Weather Service and going back over the radar data, we believe that the damage that happened in Sunday evening's storms in the Dogwood neighborhood in Bossier Parish was the result of a downburst, not a tornado. Downbursts happen when basically part of the storm collapses. As the air rushing toward the ground hits the surface, it violently spreads out in all directions at speeds that can approach or even exceed 100 mph. A downburst, in this case, would have occurred concurrently with torrential rain and hail as the precipitation that was being held aloft dropped to the ground.
An examination of the wind velocity at the time of damage shows a pattern consistent with a downburst and not a tornado. Instead of seeing a tight "couplet" of winds blowing toward and away from the radar along the line of the beam, we instead see a divergent wind pattern with winds blowing toward and away from a central point right over the neighborhood.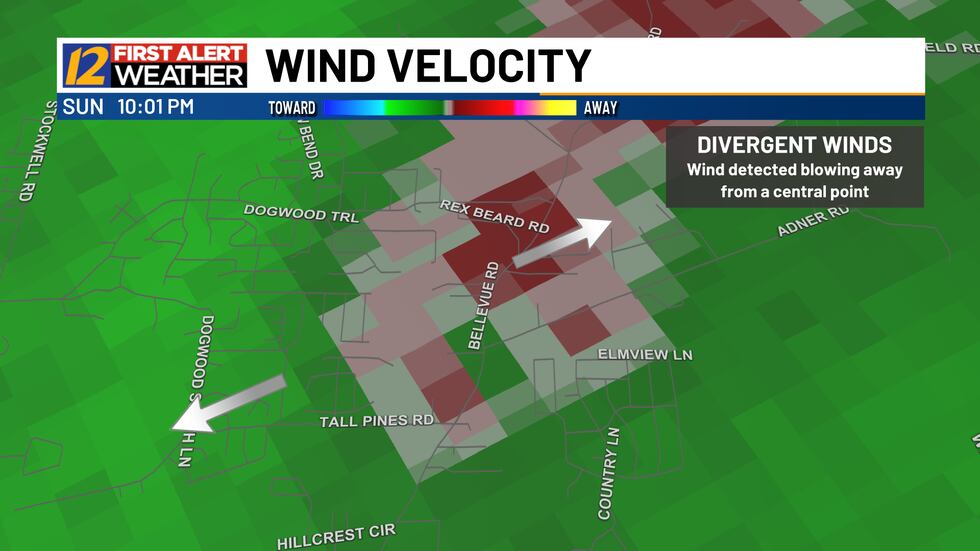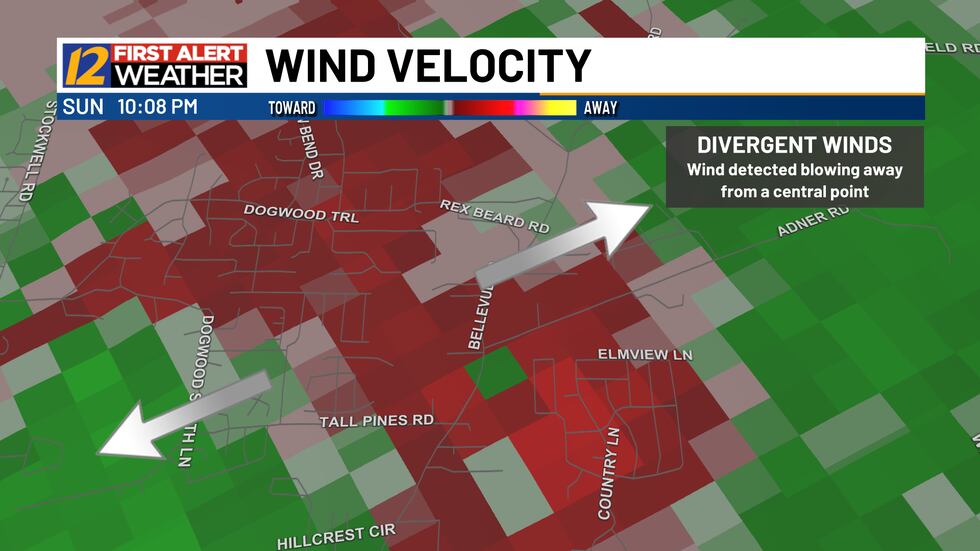 As to why there was not a Severe Thunderstorm Warning issued for the storm, downbursts are notoriously difficult to detect prior to happening. Unlike most tornadoes, which gradually develop from increasing rotation in a storm, downbursts develop very fast; and once a radar signature can be seen, the damaging wind is often already occurring.
Copyright 2023 KSLA. All rights reserved.