Comparing the salaries of SWLA's mayors and police chiefs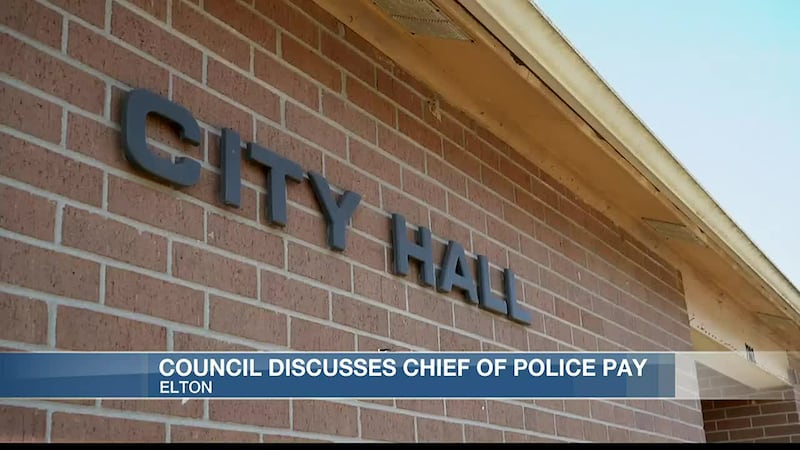 Published: Sep. 26, 2023 at 4:32 PM CDT
SWLA, La. (KPLC) - After Elton's mayor had her salary doubled two months into office, followed by the town's police chief also requesting a raise, KPLC was prompted to look into how their salaries compared with mayors and police chiefs in other towns and cities.
Ordinances to increase the salaries of Elton's mayor and chief of police were discussed at a meeting in February.
In March, two months into Elton Mayor Kesia Lemoine's tenure, the council approved a pay increase for the mayor, agreeing on $3,200 a month and making the position full-time in the town of 992 people. She now makes $38,400 a year. Council members said at the time the increase was because she was working full-time hours.
The previous mayor made $17,400 per year.
The police chief also requested a pay increase. In March, the council agreed to $3,100 a month for Chief Bruce Lemelle, or $38,000 annually - although not the $45,000 he originally requested. The council said they would like to see a reduction in crime, then would revisit the topic of a pay increase in six months.
Six months later the chief requested they revisit the issue, and at a meeting on Sept. 11, the council introduced an ordinance that would bump up the chief's pay again, to $40,000 annually. The council will have a final vote at next month's council meeting.
We collected data from the 24 cities and towns around Southwest Louisiana that have mayors, using data from 2022/2021 audits and the 2020 census. While we gathered mayors' salaries from audit reports, we gathered data for the chief's salary by calling town and city halls.
Of the 24 cities and towns we collected data from, we discovered Elton's mayor, at a salary of $38,400 in a town with a population of 992, makes more than six of the mayors of the seven towns smaller than Elton, as well as the mayors of the nine towns larger than Elton.
As for how Elton's chief of police stacks up, his current salary, $38,000 puts him making more than most of the chiefs of the towns smaller than Elton. These salary totals do not include the $7,200 in state supplemental pay that eligible law enforcement officers receive in addition to their salary.
Upon collecting the data, the true outlier seemed to be Fenton. The mayor and the chief of police of Fenton made significantly more than other towns of a similar population. Furthermore, Fenton claimed the most in fines and forfeitures towards their revenue of any town, at $1.4 million - 92.51 percent of the total revenue for the town.
To put this in perspective, Lake Charles claimed $183,659 in fines and forfeitures, a total of 0.2 percent of their total revenue. Sulphur claimed $129,738 in fines and forfeitures, which is 0.34 percent of their total revenue.
In two-thirds of the towns and cities, fines and forfeitures make up less than 10 percent of their total revenue.
Copyright 2023 KPLC. All rights reserved.