Wildfire chars 746 acres of land in Panola County; several fires reported in Sabine Parish
Published: Aug. 20, 2023 at 5:12 PM CDT
|
Updated: Aug. 21, 2023 at 1:37 PM CDT
(KSLA) — East Texas firefighters battled two massive wildfires that charred more than 1,200 acres. Meantime, several wildfires were reported across Sabine Parish, authorities said.
The reported starting point for a wildfire in Panola County is near FM 31 and Galloway, Texas. The fire started around 6:30 p.m. Sunday, Aug. 21.
As of 10 a.m. Monday, 80% of the fire was contained, with 746 acres of land burned. Officials said no structures have been damaged and no casualties have been reported.
RELATED:
Sabine Parish fire districts and sheriff's deputies also responded to the areas where they had fires.
Around 1:30 p.m. Monday (Aug. 21), a woods fire was reported in Sabine Parish near Shadows Road. It's off Pineridge avenue near Louisiana Highway 191, not far from an earlier fire on Willie Salter Road. Fire crews have responded and called in the state's forestry department.
"Residents in the Dess Road, Willie Salter Road, Rogers Road area are being warned of fire danger near you," the sheriff's office posted at 5 p.m. Sunday. "Please take precautions and avoid this area."
Sheriff Aaron Mitchell reminded everyone again of how serious the fire danger is right now with no relief in the near future.
Officials reported the fire was contained by 10:45 p.m. and they will continue to monitor the area for potential threats.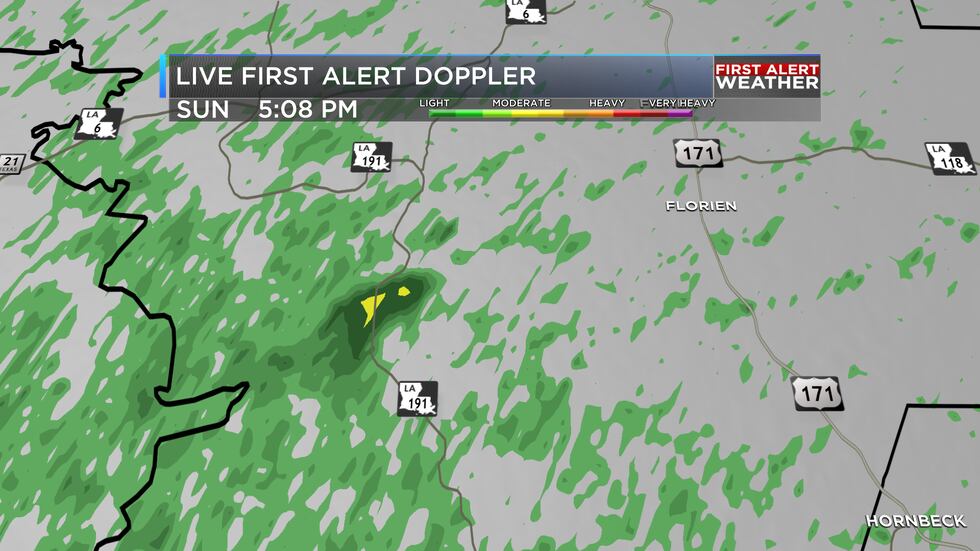 The National Weather Service (NWS) office in Shreveport issued a Red Flag Warning for northern Louisiana and northeast Texas from 7 a.m. to 8 p.m. Monday, Aug. 21. This means extreme fire conditions will be present in the area because of winds, low humidity and dry vegetation, according to NWS.
Winds of 10 to 15 mph, a relative humidity of 20% to 25% and temperatures of 103 to 107 degrees mean that "rapid ignition and spread of wildfires is possible," according to NWS.
NWS said the warning extends to all areas near and south of the I-20 corridor of northeast Texas and northern Louisiana. That includes the following Louisiana parishes and east Texas counties:
LOUISIANA PARISHES
Bienville

Bossier

Caddo

Caldwell

DeSoto

Grant

Jackson

LaSalle

Natchitoches

Ouachita

Red River

Sabine

Webster

Winn
TEXAS COUNTIES
Angelina

Cherokee

Gregg

Harrison

Nacogdoches

Panola

Rusk

Sabine

San Augustine

Shelby

Smith
Copyright 2023 KSLA. All rights reserved.