LEAP test results show North Louisiana grew as a whole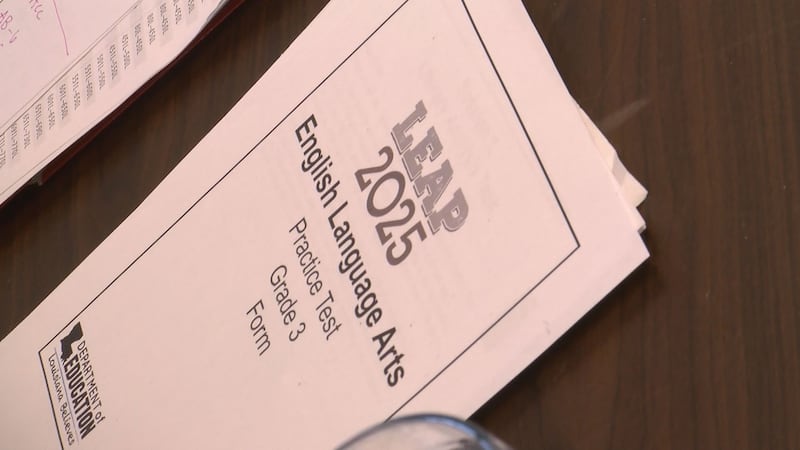 Published: Aug. 2, 2023 at 4:51 PM CDT
|
Updated: Aug. 2, 2023 at 9:43 PM CDT
(KSLA) — "In 2019, Louisiana ranked 42nd in the country; in 2022, we are now ranked 11th in the country," state Education Superintendent Cade Brumley said Wednesday.
[RELATED: Louisiana LEAP scores increase second year in a row]
A report card that Louisiana school systems can be proud of. The state Education Department released results of the spring LEAP tests. Bossier public schools showed sweeping gains districtwide across all subjects. And three elementary schools posted increases of more than 10%; one was cited among the top 10 schools in the state for growth.
Louisiana's overall mastery rate improved two points to a 33 in 2022-23 from a 31 in 2021-22.
QUICK FACTS:
Among the top 10 school systems in terms of achievement is Lincoln, with a mastery+ rate of 43%.

Lincoln, with a growth rate of +6%, and Natchitoches, with a growth rate of +3%, are among the state's top 10 school systems in terms of improvement.

Among the top 10 schools in terms of improvement is Sun City Elementary in Bossier City with a growth rate of +15%.

25% of Louisiana schools did not improve.
"We wanted to highlight today the top 10 school systems for improvement, the top 10 school systems for overachievement," Brumley said during a news conference at the Cyber Innovation Center in Bossier City. "But we also want to highlight North Louisiana. This region grew as a whole, and that's why we want to make this announcement today."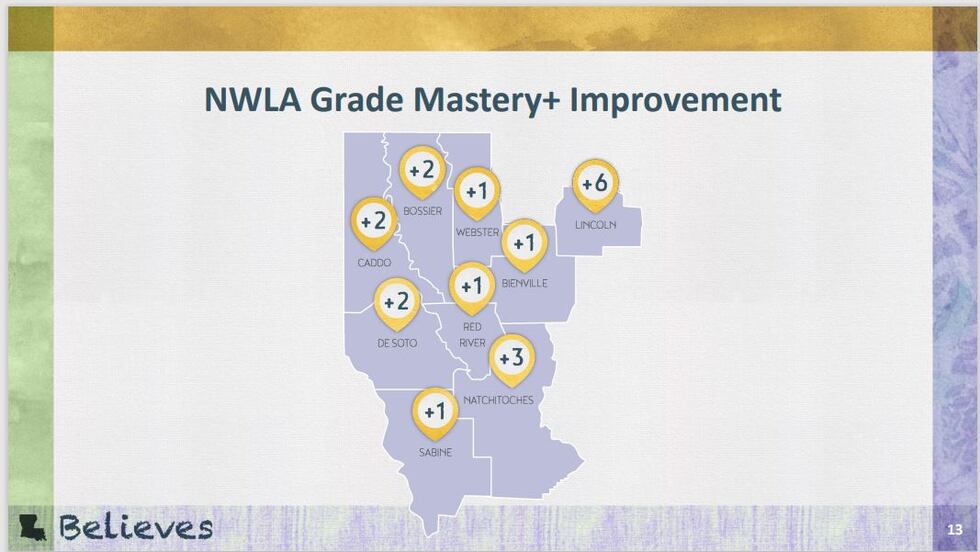 The largest increases in grade-level proficiency were in third-grade English/language arts (ELA), with 17 schools raising their proficiency percentages. Two schools with notable gains are Bellaire Elementary with 21% growth and Sun City Elementary with 19%.
Following is how the state and Northwest Louisiana school districts performed:
"We are also tracking subgroups," Brumley said. "African American students gained by 4 percentage points total from the last two years. Students with disabilities are up. Hispanic students and economically disadvantaged students, those numbers are up but they are still far too low. We want to make sure everything we do in Louisiana, regardless of ZIP code, has a high-quality education."
[RELATED: KSLA Morning Crew takes the LEAP!]
Dr. Edith Walker, of number-one ranked Ascension Public Schools, said they witnessed sustained improvement in school performance scores since the COVID-19 pandemic. Prior to the pandemic, our overall SPS as a school district was a 93. We were close to meeting those goals last year. So this year, I'm almost certain with the growth we have from last year, we are going move from where we were in 2020. I'm really excited about that."
Jenna Chiasson, deputy superintendent of teaching and learning for the state Education Department, said literacy coaching for all the educators has been key to the improvements. "These results really show the fruits of our labor. But, most importantly, our educators around the state that do this work day in and day out."
Following is a summary of how Northwest Louisiana schools performed overall and by subject area:
RELATED:
• LEAP 2022 testing results for north Louisiana schools to be announced
• BESE introduces appeals process for state's LEAP scoring graduation requirement
Copyright 2023 KSLA. All rights reserved.