Alvin Kamara planning to meet with NFL commissioner Goodell to share his side of Vegas fight story
Kamara is still awaiting a decision from the NFL on a possible suspension
Published: Jul. 31, 2023 at 5:46 PM CDT
NEW ORLEANS (WVUE) - Five days into training camp, Alvin Kamara is still awaiting a decision from the NFL on a possible suspension following his involvement in a 2022 fight in Las Vegas.
FOX 8 analyst Jeff Duncan reported on Saturday that Kamara plans to meet with NFL Commissioner Roger Goodell to share his side of the story before a decision is made.
Head coach Dennis Allen says the idea for a meeting with Goodell came after Kamara talked with Saints general manager Mickey Loomis.
"I think that was a discussion that initially started with him and Mickey," Allen says. "You know I think Alvin really wants to get out ahead of this and have a chance to visit with Roger and kind of give him his side of the story. Look at the end of the day, I think part of it is, let's get some resolution to where we're at. And let's move forward. I think Alvin is looking forward to putting this behind him and focusing in on what he has to do to be the best he can for our team this season."
See also: Alvin Kamara agrees to plea deal on lesser charge in Vegas nightclub attack
When Allen was asked if the team has received any indication that a decision could be announced soon, he said no.
But Allen also assured that they'll adjust accordingly when they do hear from the NFL.
"We're working, practicing, getting better," Allen says. "Alvin is going to be a huge part of what we do this year. We'll take things in stride with how they happen. Anything we have to deal with, we'll deal with it when the time's right."
Video: Dash camera video shows Alvin Kamara moments after Las Vegas nightclub fight
Kamara and co-defendants Chris Lammons, Darring Young, and Percy Harris were arrested after allegedly punching, kicking, and stomping on Darnell Greene Jr. during an altercation outside of an elevator the day before the NFL's 2022 Pro Bowl.
While Greene initially requested damages of $10 million from Kamara, a notice of removal in Louisiana court last November said that Kamara had never actually been formally served with the lawsuit. The two men reached a private settlement on July 10 according to Greene's lawyer, Tony Buzbee.
Buzbee said on his Instagram account that the settlement also included a public apology from Kamara.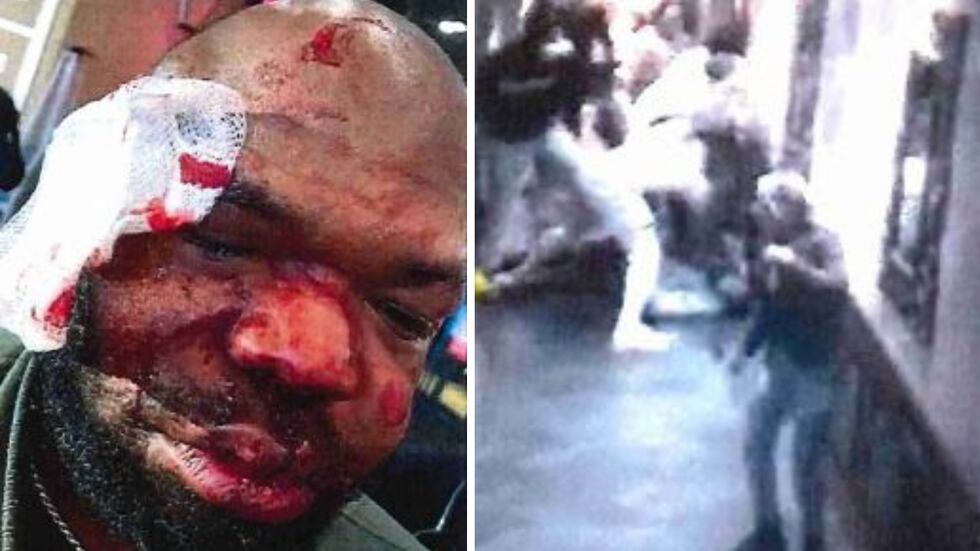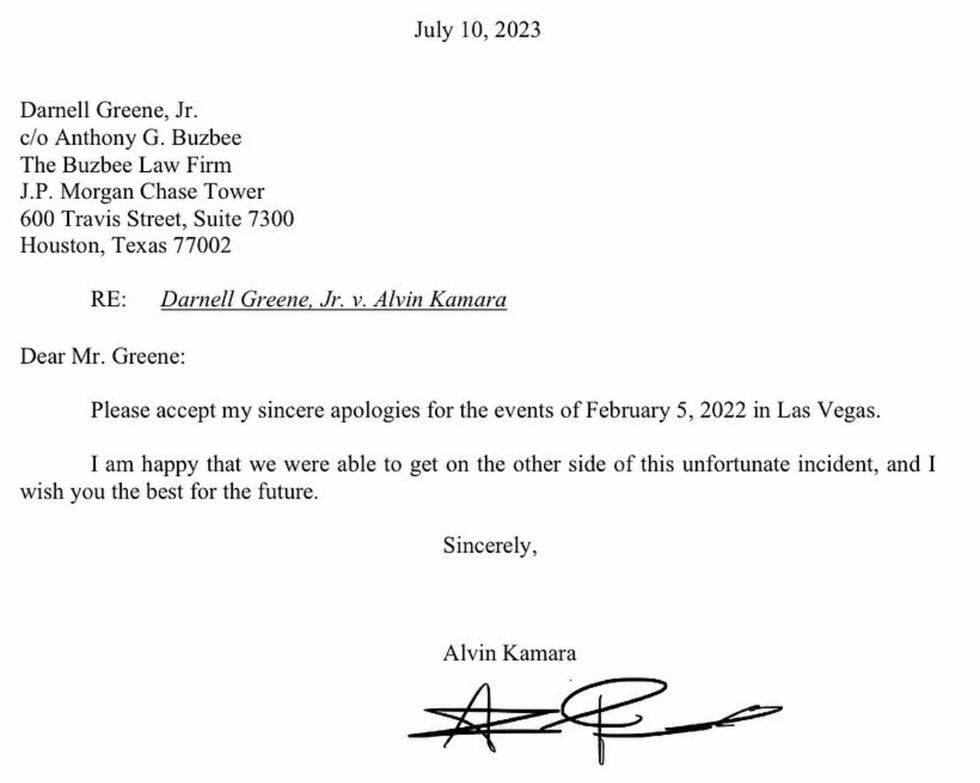 Attorneys for the Saints star claimed the altercation was self-defense on Kamara's part and criticized prosecutors for taking the case to a grand jury, where testimony was taken and evidence present behind closed doors.
Lammons' attorney, Ross Goodman, acknowledged that Lammons struck Greene, but called it "a measured response" to being pushed or shoved in the nightclub hallway.
Greene was treated for a fracture of the bones around an eye, and reported neck, back, shoulder, and knee injuries, according to police and court filings in New Orleans.
Police said the incident began when Kamara put his hand on Greene's chest to stop him from entering an elevator, Greene pushed the football player's hand away, and a person with Kamara punched Greene.
See a spelling or grammar error in our story? Click Here to report it. Please include the headline.
Subscribe to the Fox 8 YouTube channel.
Copyright 2023 WVUE. All rights reserved.