MIND MATTERS: Research shows an increase in gun deaths of teens by 50%
Published: Jul. 27, 2023 at 4:19 PM CDT
|
Updated: Jul. 27, 2023 at 6:35 PM CDT
SHREVEPORT, La. (KSLA) - It's impossible to ignore the ongoing gun violence as mass shootings have erupted across the country. That type of violence takes a mental toll on those witnessing it, which is why KSLA spoke to counselors to get information on how society is coping with the trauma as well as ways to reassure your children.
Shreveport experienced a mass shooting on the Fourth of July that took four young lives and injured seven people. Whether or not you were directly involved or a witness to it all, your mental health could now be suffering as a result.
Shreveport ranks top 10 on Forbes list of most dangerous cities in the US, and local counselors are seeing the impact from a community desperate for change.
"I'm talking to people there not sure what to do, with their family time. They're not sure what to do with their children, you know how much flexibility, how much freedom, should I get my kid out," Dr. Antwan Butler said. "I'm talking to parents who are vetting their kids' friends. They are taking a second thought about going to parties and outings and things like that."
According to Pew Research Center's analysis of the latest annual mortality statistics from the Centers for Disease Control and Prevention (CDC), the number of children and teens killed under 18 years old by gunfire in the US increased 50% between 2019 and 2021.
Furthermore, black children and teens were roughly five times more likely than their white counterparts to die from the gunfire in 2021.
According to research, nearly half of US parents worry about their children getting shot.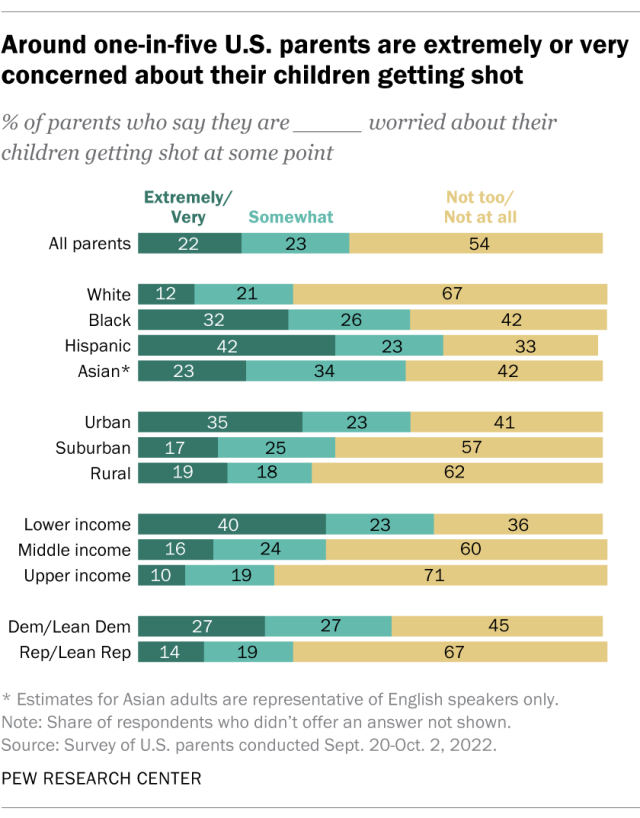 Laura Baxter, Director of the Institute for Childhood Resilience at LSU Health Shreveport, says she is concerned for children that commit violence and those who are the victims of it.
"There are two groups of children that I have concerns about. Those who are at risk of perpetrating violence and those who are at risk, who are on the receiving end of violence, and both of them need the same thing," Baxter said. "They need the reassurance and the involvement of safe, stable and nurturing adults in their lives. They need us to get out of our houses and interact with them and in safe and supportive ways."
In addition to a recent surge in violence, counselors say parents need to be vigilant when looking for signs that their own child might be suffering with stress and anxiety because it can be difficult for them to process their feelings.
"They want to have the conversation. You know, what is happening [and] what is going on? People are asking, 'why this city? Is there something about this city that is broken that needs to be fixed.' People are talking about moving away," Dr. Butler said. "They don't want their kids hurt; they don't want their families hurt. 'Maybe if we just go to another place, and that may be the answer.' When things like this start happening, people start pointing fingers. They are trying to figure out who is to blame."
If you are wondering where to start, Butler and Baxter both say staying connected is the key.
"Situations like this can typically drive us into isolation where we don't want to get out and maybe even talk to someone, and we kind of deal with things in our head," Dr. Butler said. "But I think that it is important that we don't let these incidents drive us away from each other."
"The first response from anyone is to withdraw, to isolate and protect themselves in their homes," Baxter said. "And in fact, it is the opposite of what we need to be doing because what people need in times of increased aggression is reassurance that there is a support system in place."
MIND MATTERS: MORE ON YOUR MENTAL HEALTH
Copyright 2023 KSLA. All rights reserved.