Gov. Edwards joins military dignitaries to unveil La. Heritage Monument honoring African American Veterans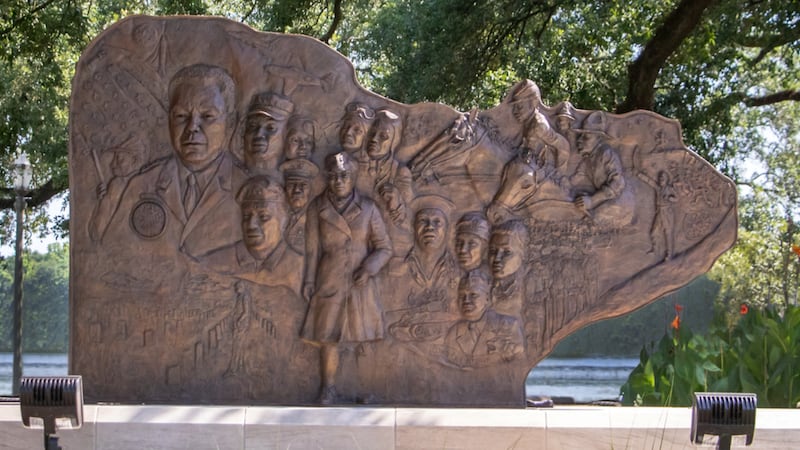 Published: Jul. 19, 2023 at 11:34 AM CDT
|
Updated: Jul. 19, 2023 at 11:35 AM CDT
The following news release is from the office of the Governor
BATON ROUGE, La. (WAFB) - Today, Gov. John Bel Edwards joined Senior Military Assistant to the U.S. Secretary of Defense Lieutenant General Ronald Clark, Col. Joey Strickland, secretary of the Louisiana Dept. of Veterans Affairs, members of the U.S. Dept. of Veterans Affairs, several active and retired military dignitaries as well as state and local officials for the unveiling of The Louisiana Heritage Monument.
The monument honors the service and sacrifice of all African American veterans throughout America's history.
The Louisiana Heritage Monument was created by Act 432, which was signed into law by Gov. Edwards in 2021. Authored by Sen. Gerald Boudreaux, the legislation won overwhelming bipartisan support. Sen. Royce Duplessis helped secure prominent New Orleans artist, Sheleen Jones.
The monument begins with recognizing the contributions of the formerly enslaved soldiers who fought for the Union and in the 1863 Siege at Port Hudson. They primarily made up the 1st and 3rd Louisiana Native Guard regiments and were critical to the battle, which historians regard as a major turning point in the Civil War. These brave soldiers were the first Black soldiers who fought in combat and paved the way for others to enter all branches of the military and serve from the battlefields to the highest ranks.
"It's an honor to take part in today's history making event, and I'm grateful to everyone who had a hand in making this monument become a reality in such a short period of time," said Gov. Edwards. "This is the only monument of its kind on any state capitol ground, and it's exciting that Louisiana is leading the way in honoring the heroism of these brave men and women, especially the formerly enslaved soldiers who fought in the Siege at Port Hudson. I want to thank LTG Clark for delivering the keynote as well as Senators Boudreaux and Duplessis and Southern University, a great partner committed to sharing the stories of these service members so that they will long be remembered. This is a monument for everyone, no matter your race or background. These men and women fought for the liberty and freedom of every American, and they deserve nothing less than our respect and never-ending gratitude."
"Like our five veterans homes and five veterans cemeteries around our state, the Louisiana Heritage Monument will stand as a testimony forever to the honor Louisiana pays our country's veterans every single day," Louisiana Department of Veterans Affairs Secretary Joey Strickland, COL (USA Retired) said. "I learned a life lesson so many years ago while serving as a door gunner on a Huey helicopter in Vietnam: No matter the color of our skin, our blood all runs red. Thank you, veterans. We honor all of you for your sacrifice and service."
Southern University and A&M College has partnered with the state and agreed to maintain the Heritage Monument website and share the stories of the veterans for many years to come. Click here to view the website.
Cast in bronze, the monument sits atop a limestone base, stands more than 9 feet tall and is 12 feet wide. It features military heroes beginning with America's revolutionary war and reaches forward through the United States Space Force. Some of those depicted include the Tuskegee Airmen; the Buffalo Soldiers; Lieutenant General Russel Honoré; General Colin Powell; Lieutenant General Michael Langley; Brigadier General Sherian Cadoria; and Colonel Margaret Bailey; and others.
Artist, Sheleen Jones who is also a professor at Xavier University says, "It is an honor to create memorial sculptures for communities. I hope to continue creating images that capture and celebrate our humanity, our struggles, our beauty and our fortitude."
Funding is provided by the Louisiana Dept. of Veterans Affairs and generous donations by Entergy, Walmart, Calvin Mills, Jr., and Liberty Bank and Trust Company.
"This recognition is long overdue, and Entergy is excited to join the state and other community partners in commemorating the courageous African American soldiers who have served our country in the past as well as those who continue to show bravery and make sacrifices today so that we can enjoy freedom and always envision a bright future," Phillip May, president and CEO Entergy Louisiana.
"At Walmart, we are grateful for the sacrifice our nation's 17 million veterans and their families make in service to our country," said Tice White, Walmart Director of Public Affairs for Louisiana. "I am proud that Walmart has a number of programs that seek to advance the economic opportunity and well-being of veterans. We are honored to have played a role in the development of this wonderful monument and thrilled to continue our support for the Louisiana community."
"I'm honored to be part of this historic event, as it signifies a long-awaited recognition and tribute to the Black military heroes of the Siege at Port Hudson," said Calvin Mills, Jr. "Their service and sacrifice, as formerly enslaved men fighting for the Union, have been overlooked for far too long. This monument not only acknowledges their bravery but serves as a symbol of the resilience and contributions of all African American soldiers throughout our nation's history. It is my profound privilege to have played a role in ensuring that their stories are finally given the recognition they rightfully deserve."
"Liberty Bank has long been a supporter recognizing the contribution of African Americans and African American veterans," said Liberty Bank CEO Alden J. McDonald. "We are happy to be a part of this tribute to the many men and women who served our country. Liberty has been for the past 50 years a supporter of our freedom. Thanks to Governor John bell Edwards, and the leadership who saw fit to honor those who served our country."
Click here to report a typo.
Copyright 2023 WAFB. All rights reserved.