Doctor explains how to protect yourself, your loved ones from heat-related illnesses
He also offers some advice for those who still are doing without electricity.
Published: Jun. 22, 2023 at 11:00 PM CDT
SHREVEPORT, La. (KSLA) — As crews work to restore power and clean up debris left after last week's storms, heat illnesses have become a major concern after two storm-related deaths have been confirmed.
[RELATED: Appalachian Power lineman dies while in ArkLaTex to help with storm recovery efforts]
[RELATED: LDH, coroner: Woman's death was heat-related]
"Number one, you want to stay well hydrated," advised Dr. Charles Webb, associate professor of family medicine at LSU Health Shreveport. "So you want to make sure you drink plenty of fluids, especially water.
"You want to try to stay away from things that dehydrate you, like alcohol and caffeine, because they cause you to have to go to the bathroom more."
[RELATED: More storm recovery coverage]
Signs and symptoms of heat illness and heat stroke are very similar. They include fatigue, muscle cramps, disorientation, random goosebumps, shivers and more.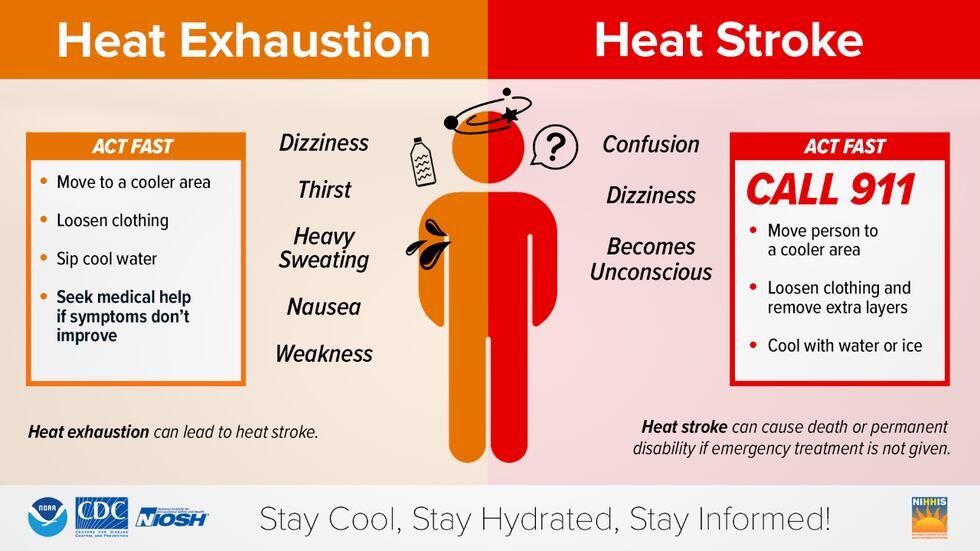 "It's more important to cool that person than it is to transport that person," Webb said. "We need to get their body temperature down as fast as possible and then transport them because if you don't cool them, it's a good chance they're going to lose more brain tissue."
[RELATED: Temperatures build toward 100 by next week]
He also has some advice for those who still are doing without electricity.
"You want to try to get outside in the shade of a tree or be in a place in your home where there's wind that will actually catch a draft so you can have that wind blowing through and on you," he said.
"You want to make sure you're wearing loose-fitting clothing. You don't want to wear things that are constricted. So that you can catch that breeze and get the sweat to wick away from you. That's how your body is going to be trying to cool down. Yes, you're producing sweat; but you want the evaporative aspect to be able to evaporate that sweat off of your body and that's how you're going to cool your core temperature down."
The safety of the utility workers is a major concern considering they are working long hours.
"They're wearing restrictive clothing so that they can be up in there in baskets tending to the power lines and the trees," Webb said. "Making sure they stay well-hydrated is the biggest thing that needs to happen. They need to take frequent breaks.
"If you're not actually having to work, you want to try to stay out of the sun mainly between the hours of 11 to 3 in the afternoon."
Click here to share your weather-related videos and photos:
Copyright 2023 KSLA. All rights reserved.