Ark-La-Tex Juneteenth Celebrations for 2023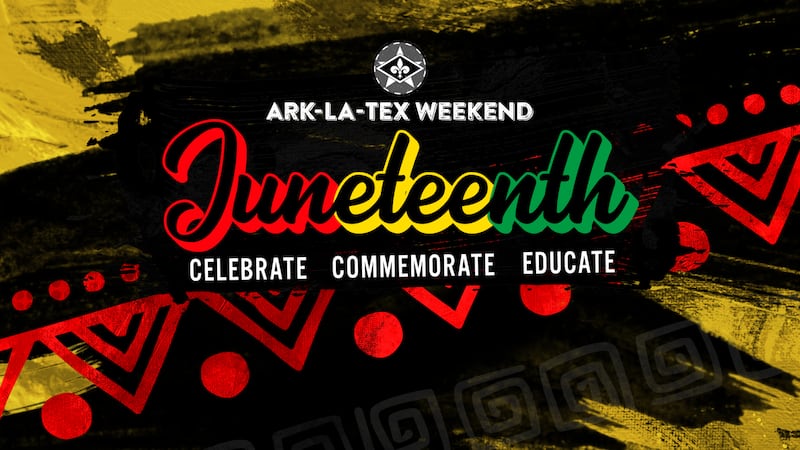 Published: May. 16, 2023 at 2:11 PM CDT
|
Updated: Jun. 7, 2023 at 4:56 PM CDT
(Ark-La-Tex Weekend) -
June 3
2023 Miss/Mr. Juneteenth Contest
4 p.m. - 6 p.m.
Watch to see who wins from all different age groups from ages 2 to 100. All proceeds benefit the Star Mentor Program.
Location - 1400 Southern Ave., Shreveport
4 p.m. - 6 p.m.
Listen to regional musicians like Etta James, Sam Cooke, Mary Wells, and Billy Paul and more. This is a free event.
Location - Many Community Center,
June 9-11
2nd Annual Juneteenth Celebration
This three day event starts on Friday at 6:30pm, Saturday at 5:00pm and Sunday at 3:00pm. Bring your lawn chairs for all of the music and fun. There's also a Kickback Trail Ride with a BBQ Competition and horses.
Location - Zwolle Festival Grounds, 1100 S. Main St.
June 11-19
Juneteenth Light Show
The Bakowski Bridge of Lights between downtown Shreveport and Bossier City will be lit up in special Juneteenth colors.
June 14
Shreveport Regional Jazz Ensemble
6 p.m.
A special Juneteenth concert featuring this jazz group.
Location - Caddo Common Park in Shreveport
June 15
VERSIFIED Juneteenth Shreveport
6 p.m.
Spoken word and poetry readings with 10 poets and a documentary film by Poetic X.
Location - Robinson Film Center, 617 Texas St., Shreveport
June 16-18
Let the Good Times Roll Festival
It's one of the biggest Juneteenth parties in the Ark-La-Tex filled with all sorts of music, food and family fun.
Location - Shreveport Festival Plaza
June 17
9 a.m. - 2 p.m.
Parade rolls at 10 a.m. around the downtown square. Browse many vendors and enjoy good music, food and more.
Location - Downtown Carthage, Tex
10 a.m. 2 p.m. & 4 p.m.
Learn about the challenges faced by Gad Bradley, a Free Man of Color in antebellum Arkansas.
Location - 1874 Courthouse, Historic Washington State Park, Washington, Ark
North Louisiana Juneteenth Coalition Parade
10 a.m. - Noon
The parade marches from Veteran's Park to Festival Plaza and Riverview Hall along Clyde Fant Parkway.
Juneteenth: Celebrating Freedom
11 a.m. - 3 p.m.
Festivities include a parade, praise and worship singing extravaganza, story telling, games and a car show.
Location - Sabine High School, 850 Highland Ave., Many, La
Ayden Howards hosts this 3rd annual celebration and parade.
Location - Downtown Texarkana
Ruston's Juneteenth Celebration
6 p.m.
The community is invited to come together for a day of fun, fellowship and reflection on historic occasion.
Location - Railroad Park in Ruston
June 17-18
Let the Good Times Roll Festival
Rho Omega's annual party is back with great music, food and more!
Location - Shreveport Festival Plaza
'artish
Noon - 8 p.m.
Envision Media, Black & White Exhibition produced by North Louisiana Juneteenth Coalition, and "Taste of Soul"
Location - Riverview Convention Hall in downtown Shreveport
June 17-19
11 a.m. - 8 p.m.
See the touring Paradox Traveling Art Gallery Bus for free. The YouKnighted Band performs nightly from 6 p.m. - 8 p.m. On June 19, there will be prayer, speakers, music and more.
Location - Downtown Marshall
June 19
8:30 p.m. - Midnight
This will be a special Juneteenth theme with special guest Scooterman.
June 23-24
10th Annual Juneteenth Celebration "Discover Our Roots"
Friday's festivities includes a Kids Fun Day from 10 a.m. - 4 p.m. at the corner of Polk and Jefferson Streets. The gates open to Courthouse Square at 6:30 p.m. for live music. Saturday is a parade at 11 a.m. and more live music starts at 6:30 p.m.
Location - DeSoto Parish Courthouse Square in Mansfield, La
Copyright 2023 KSLA. All rights reserved.