2 dead, officer among those wounded in shooting at Valero station in Bossier; suspect in custody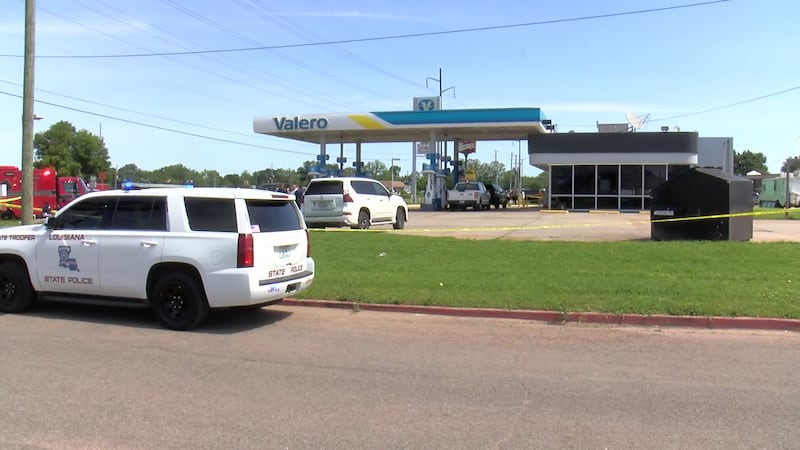 Published: May. 2, 2023 at 11:09 AM CDT
|
Updated: May. 3, 2023 at 4:25 AM CDT
BOSSIER CITY, La. (KSLA) - At least two people were killed and two were injured, including a police officer, in a shooting at a Valero gas station in Bossier City on Tuesday, May 2.
Officers responded to a shots fired call at around 10:30 a.m. at the Valero gas station on Industrial Drive off I-20 near East Texas Street. Louisiana State Police says that's when an armed person came out of the gas station and an exchange of gunfire took place between officers and the gunman.
A BCPD officer and another individual were shot and taken to an area hospital. The officer is said to have sustained moderate injuries and is in stable condition. The other person is in critical condition, according to Bossier officials. Two others who were shot were pronounced dead at the scene.
LSP confirms the armed person was arrested and taken into custody without injuries.
A worker at Taqueria La Reyna A Dela Sur, a restaurant in the same building as the gas station, described when she heard the ordeal go down.
"It sounded like a big helium balloon when it pops. It was very, very loud. We looked at each other in panic because we didn't know what it was until one of our co-workers went to go look and they saw someone lying on the floor," Melissa Valdez said. "And then that's when the other gentleman told us to run out the back door. We ran as far as we could and we ran behind a car. Next thing we knew, we were on the phone with the police and they ran up very, very quickly. And all I saw was a door open and all I heard were gunshots."
It's believed this armed person is also wanted in connection with a recent deadly stabbing and for injuring multiple people in a shooting in another state.
[RELATED: Alabama murder suspect also is suspected of killing 2, wounding 3 others in Bossier City]
A mother confirms to KSLA that her son was shot and killed during the incident Tuesday. Another source says a second person was killed as well.
LSP says they are only investigating the officer-involved shooting, not the armed robbery that initially brought officers to the scene.
The investigation is ongoing.
Anyone with information about the incident is asked to call investigators with LSP at (318) 741-2735. Anonymous tips can also be submitted online here. Those with info can also call the LSP Fusion Center Hotline at 1-800-434-8007.
Copyright 2023 KSLA. All rights reserved.