New timetable set for planned opening of land-based casino at site of former DiamondJacks
State gaming board lays out parameters contingent on sale from Foundation Gaming to LRGC Gaming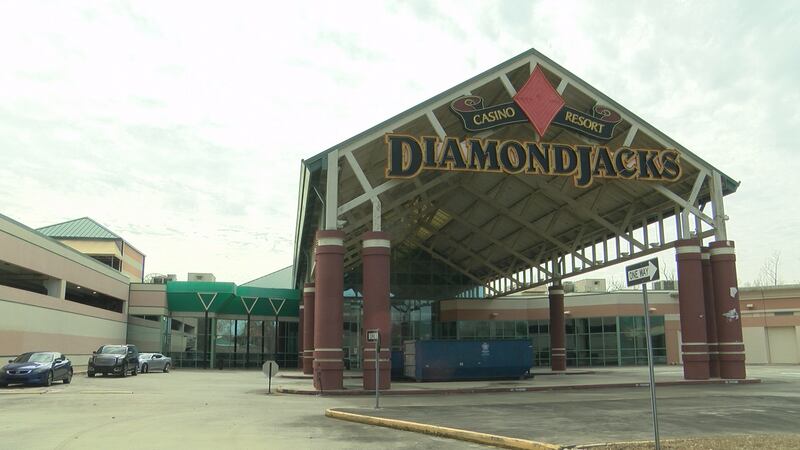 Published: Apr. 4, 2023 at 10:24 PM CDT
BOSSIER CITY, La. (KSLA) — There's a new timetable for the planned construction and opening of a land-based casino at the site of the former DiamondJacks Casino & Resort property in Bossier City.
The Louisiana Gaming Control Board set the parameters in a resolution adopted Tuesday, April 4.
Louisiana Riverboat Gaming Co. LLC, doing business as DiamondJacks, had asked to board to extend its deadlines for:
submission of its architectural blueprints, detailed plan of design and construction and construction contract,

completion of construction, and,

starting gaming operations at the new facility.
DiamondJacks' request to relocate its gaming operations from a riverboat to a land-based operation were approved Dec. 15, 2022. At the time, the Gaming Control Board gave Foundation Gaming & Entertainment LLC until April 14, 2023, to submit blueprints and a plan for the design and construction of the casino.
However, Foundation Gaming agreed March 14, 2023, to sell all of its interest in DiamondJacks to LRGC Gaming Investors LLC. Louisiana Riverboat Gaming's request is contingent on this sale being closed.
DiamondJacks also has asked, pending the transfer from Foundation Gaming to LRGC Gaming, that the Gaming Control Board meantime accept partial or phased plans and specifications for construction and renovation and related contracts in stages according to a modified construction schedule. The Gaming Control Board agreed to this.
The panel also agreed that its chairman is authorized to accept those documents on behalf of the board.
Lastly, the Gaming Control Board set these deadlines:
June 16, 2023: A construction schedule, complete with an estimated timeline for the submission of partial or phased plans and specifications and related construction contracts, is due by not later than this date.
Dec. 15, 2023: Blueprints and a detailed plan of design and construction for all phases of construction is due by this date.
March 15, 2024: All contracts necessary for construction shall be submitted to the Gaming Control Board by this date.
Dec. 15, 2025: Deadline for completion of construction and the start of gaming operations. This is contingent on the sale to LRGC Gaming.
If LRGC Gaming fails to acquire the membership interest by Feb. 29, 2024, the licensee shall complete the project and start gaming operations by the previously imposed deadline of Dec. 15, 2024.
Copyright 2023 KSLA. All rights reserved.