Body camera footage shows officers engage Nashville school shooter
Police say Audrey Hale shot through glass doors to gain entry and fired at officers through a second-story window.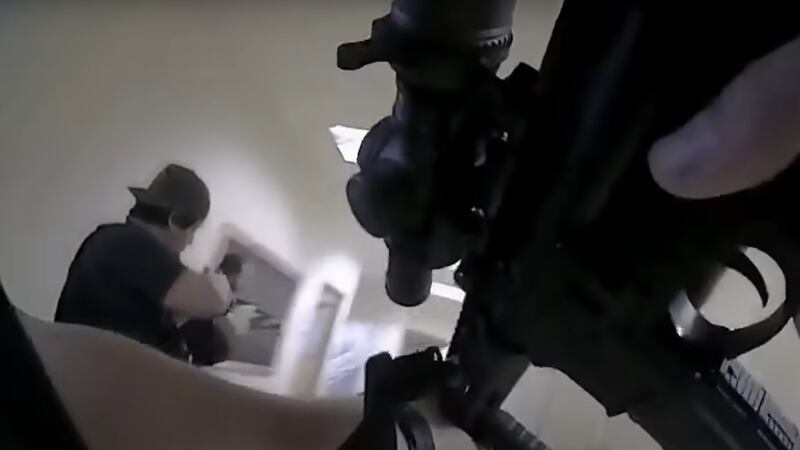 Published: Mar. 27, 2023 at 9:04 PM CDT
|
Updated: Mar. 29, 2023 at 9:26 AM CDT
WARNING: The footage shown in this story may be difficult for some to watch. Use discretion.
NASHVILLE, Tenn. (WSMV) - The Metropolitan Nashville Police Department released the body camera footage from the two officers who shot and killed the active shooter on Monday.
Officers Rex Engelbert and Michael Collazo were part of the team of officers who first arrived at the Covenant School for reports of an active shooter. The videos show Engelbert locating the shooter, Audrey Hale, on the second floor while appearing to fire at officers outside through a window.
Officer Engelbert fires four quick shots and Hale can be seen dropping to the floor. The other officers were cleared to move forward and approach the downed body and four more shots are fired, which are later attributed to Officer Collazo.
The footage from Officer Collazo's body camera clearly shows Hale still moving after Officer Engelbert engaged, which led Officer Collazo to fire the latter four shots while screaming, "Stop moving! Stop moving!" Hale was neutralized. The video ends with Officer Collazo announcing over the radio, "suspect down."
Metro Police said Officer Engelbert has been with the department for 4 years, while Officer Collazo is a 9-year veteran of MNPD.
Hale, 28, killed three children and three adults inside the Covenant School in Nashville's Green Hills neighborhood on Monday morning.
Hale gained access to the Covenant School in Nashville by shooting out glass doors, according to Metro Nashville Police Department.
Hale fired on officers who responded to the school Monday after receiving reports of an active shooter, according to MNPD. Authorities said shots were fired from a second-story window.
According to police, Hale drove a Honda Fit to the school and parked it in the lot. Detectives said they found additional material written by Hale. Earlier in the day, authorities said they discovered a manifesto and detailed map listing school entry points.
The victims were identified as Evelyn Dieckhaus, Hallie Scruggs, and William Kinney, all age 9, Cynthia Peak, age 61, Katherine Koonce, age 60, and 61-year-old Mike Hill.
Hale was a former student at the Covenant School, according to police. MNPD Chief John Drake said this could have been why the incident occurred.
Copyright 2023 WSMV. All rights reserved.