REV Entertainment updates public on its plans for multi-sport facility in Shreveport
If everything works out, they are expecting the facility to be completed by 2026
Published: Mar. 22, 2023 at 11:39 PM CDT
|
Updated: Mar. 23, 2023 at 7:15 PM CDT
SHREVEPORT, La. (KSLA) — REV Entertainment held a news conference Thursday, March 23 to update the public on a multi-sport facility coming to Shreveport.
The facility, which will be located at the Louisiana State Fair Grounds, will be able to hold around 10,000 people. There are talks that LSUS and Centenary will each play one game per year at the new stadium. REV is also planning to build a hotel close to the field.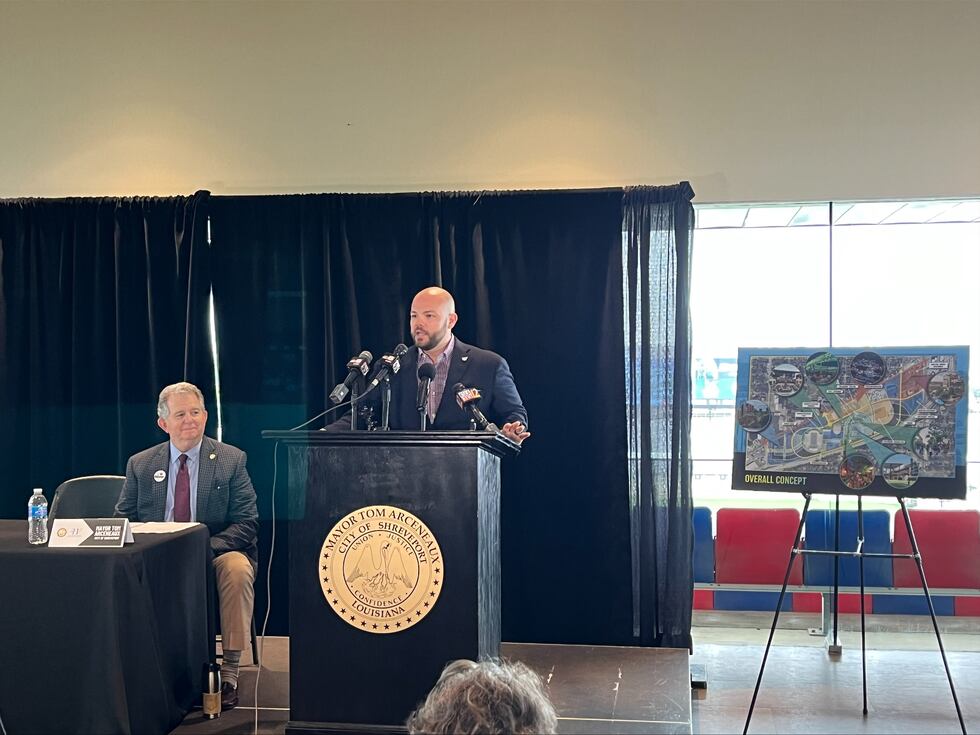 In October of 2022, the city announced a partnership with REV Entertainment to build the multi-sport facility.
REV leaders were back in town updating residents on their plans Wednesday, March 22.
"We think it'll add a lot as a community point of pride and as a gathering place for people to come. We're proposing a world-class ballpark right in the middle of the Fair Grounds adjacent to and close to Hirsch [Memorial] Coliseum and the Independence Bowl and bring a lot more than that," Sean Decker, president of REV Entertainment, said during the gathering at Bilberry Park.
The company's plan shows hotels and restaurants, among other things.
"On top of the ballpark, we're looking at a mixed-use development that'll have a bar and restaurant concept. A place for people to come before and after the game, before and after events at Hirsch and Independence," Decker said.
"We're looking at adding a hotel. We've worked with the city to visualize basically a three-part plan that could add more development."
Some people said the facility could be positive for the community.
"Taking that area that's not in use and putting it into use and then different opportunities that can be presented to people from the city or around," said Niesha Walpool, secretary of the Queensborough Neighborhood Association.
"It's not just baseball, it's a 365-day-a-year project," Sam Brock observed. "They plan to bring events to the city all the time. It won't just be baseball season and then the area's dead. They'll be life-breathing into that area 365 days a year if this works out."
Louisiana state Rep. Cedric Glover said: "I'm always excited when I hear about well-established, well-reputed folks coming into Shreveport interested in investing into this community."
The plan hinges on demolition of Fair Grounds Field. Linc Coleman, of U.L. Coleman Cos., has fought to stop the demolition.
"We're interested in marshaling the city's assets, being prudent about how the money is spent. The city doesn't have an unlimited budget for things to spend," Coleman said. "We have a lot of sewer systems and water systems. Streets that need to be repaired. Unfunded pension funds. So we need to address those things and we need to have entertainment for our community, too. So we need to be prudent in how we handle assets."
The city terminated the contract to demolish Fair Grounds Field several weeks ago to avoid further damages to the city, city spokeswoman Tari Bradford said. "When the lawsuit was filed, that's when the city terminated the demolition contract.
"If the city proceeds with REV Entertainment, nine times out of 10, it will proceed with demolition. If it does not proceed (with REV Entertainment), the city will have to make some determination on what to do."
REV Entertainment said if everything works out, they are expecting their facility to be open in April of 2026. The project is anticipated to bring more than 100 jobs to the community.
Click here to keep up with updates on the project.
Copyright 2023 KSLA. All rights reserved.