LSU Health Shreveport celebrates 50th Match Day
Published: Mar. 17, 2023 at 6:44 PM CDT
SHREVEPORT, La. (KSLA) - It's a 50-year tradition for a major medical facility in the ArkLaTex.
On Friday, March 17, 140 LSU Health Shreveport School of Medicine students learned where they will go to complete their residency during the annual Match Day celebration.
Each year on the third Friday of March, fourth-year medical students discover where they have "matched" for their residency training, which is the first step of their careers as physicians. Nationwide, 42,952 med students were matched with a residency program, making it the largest class ever.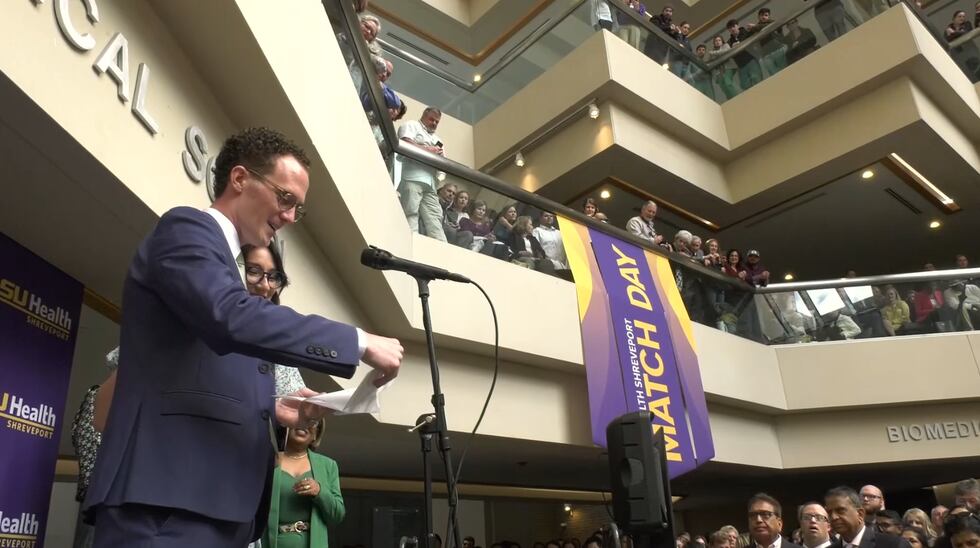 "With this being the School of Medicine's 50th Match Day, I find today's match outcome extremely meaningful for those of us who are early alumni of this medical school. With a five-year match rate of 99%, this year's class further solidifies the schools' reputation for training outstanding students who successfully compete with the 'best of best' across the nation. I offer my wholehearted congratulations to each of our students, their families and our dedicated faculty and staff," said Dr. David Lewis, dean of the School of Medicine at LSU Health Shreveport.
Officials at LSU Health Shreveport say this Match Day, they also filled 193 residency and fellowship positions locally. The new group of trainees will come to Shreveport in July.
"The Office of Graduate Medical Education is honored by those who selected to pursue their residency or fellowship at LSU Health Shreveport. The success and wellbeing of these individuals is what motivates our staff to deliver ongoing support and guidance during this important timeframe in their development as a physician," stated Leisa Oglesby, BSRN, MBA, LSU Health Shreveport's designated institutional official for graduate medical education.
"I am elated at the results of today's match both for our medical students and our institution. I offer my deepest appreciation to our School of Medicine and the Graduate Medical Education (GME) leadership and staff for their hard work making today's outstanding match results possible. To those individuals headed to LSU Health Shreveport for their residency, we can't wait to welcome you to the LSU Health Shreveport family," said Dr. David Guzick, newly hired chancellor of LSU Health Shreveport.
DETAILS FROM LSU HEALTH SHREVEPORT
LSU Health Shreveport is proud to announce that 98.6% of the School of Medicine's applicants matched, proving that LSUHS remains a strong competitor at the national level. Of the 2023 class, 29.3% will be staying at LSU Health Shreveport for their residency and 37.8% of graduates have matched to an LSU residency site. 45.7% of the graduates will be staying in Louisiana, which is critical with Louisiana facing a shortfall in the number of physicians needed to meet the healthcare demands of the state. 49.3% are entering in primary care residencies comprised of Internal Medicine, OB/GYN, Pediatrics, Family Medicine and Medicine-Pediatrics.
LSU Health Shreveport medical students matched to highly competitive residencies outside of the state and will train at prestigious programs around the country including: Weill Cornell, University of Alabama-Birmingham (UAB), Emory, George Washington University, Baylor, University of Michigan and several others. The LSU Health Shreveport Class of 2023 will receive their Doctor of Medicine on Saturday, May 20.
Copyright 2023 KSLA. All rights reserved.