Conn. woman 1st non-Vermonter granted assisted suicide right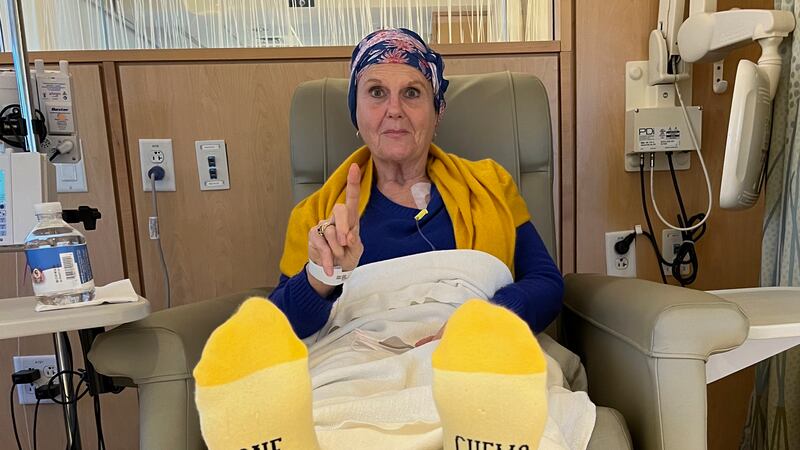 Published: Mar. 15, 2023 at 11:26 AM CDT
MONTPELIER, Vt. (AP) — Lynda Bluestein has terminal cancer and knows she'll likely die soon, but until Tuesday, she didn't know if she'd be able to choose how or when and whether her family, friends and dog would be with her when the time comes.
The 75-year-old from Bridgeport, Connecticut, reached a settlement with the state of Vermont that will allow her to be the first non-resident to take advantage of its decade-old law that allows people who are terminally ill to end their own lives, provided she complies with other aspects of the law.
"I was so relieved to hear of the settlement of my case that will allow me to decide when cancer has taken all from me that I can bear," said Bluestein, 75, who has fallopian tube cancer. "The importance of the peace of mind knowing that I will now face fewer obstacles in accessing the autonomy, control, and choice in this private, sacred and very personal decision about the end of my life is enormous."
Vermont is one of 10 states that allow medically assisted suicide, but only one, Oregon, allows non-residents to do it. Bluestein's settlement and pending legislation that would remove Vermont's residency requirement offer a ray of hope to other terminally ill patients who want to control how and when they die but might not be able to cross the country to do so.
Bluestein and Diana Barnard, a physician from Middlebury, sued Vermont last summer, claiming its residency requirement violates the Constitution's commerce, equal protection, and privileges and immunities clauses.
Barnard, who specializes in hospice and palliative care and who has patients from neighboring New York state, which, like Connecticut, doesn't allow medically assisted suicide, lauded the settlement and called on the Vermont Legislature to repeal the residency requirement.
"I am grateful that Lynda will be able to now access medical aid in dying without completely upending her final months. ... There is no good reason that non-residents should not be able to use Vermont's medical aid-in-dying law that has eased the suffering of numerous terminally ill Vermonters since it took effect a decade ago," Barnard said in a news release issued by Compassion & Choices, which filed the suit on behalf of Bluestein and Barnard and describes itself as a group that "expands options and empowers everyone to chart their end-of-life journey."
The Vermont attorney general's office said it was pleased to have reached an agreement.
"We hope that this settlement will help those involved as they navigate important decisions around end-of-life care," said chief of staff Lauren Jandl.
Bluestein, who has had three different cancer diagnoses in a short time, said she knew she had to do something so that her death wouldn't be like that of her mother, who died in a hospital bed after a prolonged illness. She decided she wanted to die surrounded by her husband, children, grandchildren, wonderful neighbors, friends and dog.
"I wanted to have a death that was meaningful, but that it didn't take forever ... for me to die," she said.
Vermont's law, which has been in place since 2013, allows physicians to prescribe lethal medication to state residents with an incurable illness that is expected to kill them within six months. If the Democratic-led state Senate approves the current legislation and it is signed by Republican Gov. Phil Scott, who supports the concept, Vermont would become the second state to allow non-residents who are terminally ill to end their own lives.
A year ago, Oregon agreed to stop enforcing its residency requirement and to ask the Legislature to remove it from the law as part of a settlement. Legislation is also under consideration there.
Although proponents of the Vermont legislation are optimistic it will pass, medically assisted suicide does have its opponents. Among them is Mary Hahn Beerworth, executive director of the Vermont Right to Life Committee, who said the practice "was, and remains, a matter of contention."
"To be clear, Vermont Right to Life opposed the underlying concept behind assisted suicide and opposes the move to remove the residency requirement as there are still no safeguards that protect vulnerable patients from coercion," Beerworth testified before a Vermont legislative committee. She said if the legislation moves forward, she has a number of concerns including what liability Vermont could incur if the drugs fail to end a patient's life.
David Englander, the state Health Department's senior policy and legal advisor, said no complaints have been reported to the department or the attorney general's office regarding the use of Vermont's law.
Supporters of Vermont's medically assisted suicide law also say it has stringent safeguards, including a requirement that those who seek to use it be capable of making and communicating their health care decision to a physician. Patients are required to make two requests orally to the physician over a certain timeframe and then submit a written request that they signed in the presence of two or more witnesses who aren't interested parties. Witnesses must sign and affirm that patients appeared to understand the nature of the document and were free from duress or undue influence at the time.
Bluestein, a lifelong activist, has pushed for aid-in-dying legislation to be passed in New York and her home state of Connecticut, where the Legislature is considering such a bill. She decided to look into Vermont as an option when a friend who had cancer moved there to establish residency so she could take advantage of its aid-in-dying law. That friend died last year, surrounded by her husband, son and daughter, Bluestein said.
"One thing that surprised me about getting this latest terminal diagnosis is just how hard it is to die the way you want to die," Bluestein said. "It seems like everybody has an opinion on what should be allowed and what shouldn't be allowed in my one personal, private and very sacred moment of death."
"There are people who say, no, you have to suffer. It's very important for you to wait until God decides that it's time for you to die. But that's not my faith. That's not what I want and that's not what I believe," she said.
Bluestein, who previously battled breast cancer and melanoma, is undergoing chemotherapy for her late-stage fallopian tube cancer. Over Thanksgiving, she told their children and grandchildren that she'll likely die this year.
"I want to live the way I always have, and I want my death to be in keeping with the way I wanted my life to be always," she said. "I wanted to have agency over when cancer had taken so much for me that I could no longer bear it. That's my choice."
Copyright 2023 The Associated Press. All rights reserved.