Viral meme kid turned college football player inks deal NIL deal with Popeye's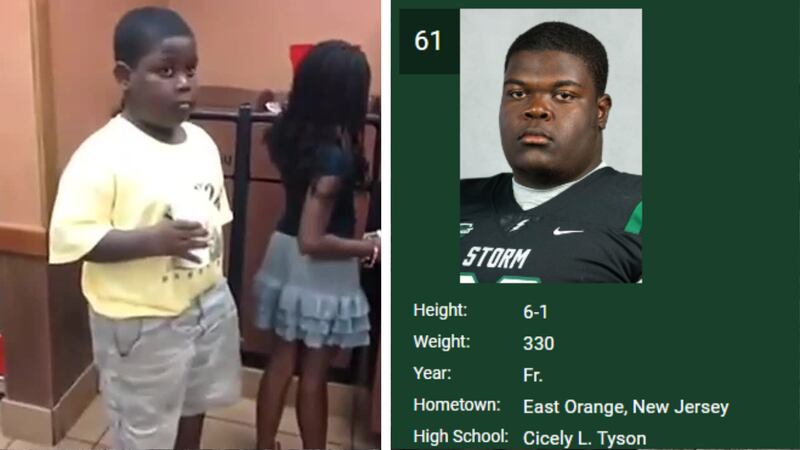 Published: Jan. 9, 2023 at 8:43 AM CST
|
Updated: Jan. 12, 2023 at 12:17 PM CST
PAINESVILLE, Oh. (WVUE) - Time passes in the blink of an eye.
For many, the Popeye's viral vine kid will be immortalized in internet comments sections for years to come but the now 19-year-old Dieunerst Collin is making a name for himself through his own merits.
Collin was mistaken for another viral star known as Lil Terio in 2013 and his hilarious reaction to the mistaken identity caught on camera caused him to go viral on Vine, amassing over 19 million views. The video was shot in a Popeye's and depicts Collin giving the cameraman an awkward look after he mistakenly identified him as Lil Terio. The video was seen so much that it became a meme and a marketing tool that Popeye's later used.
Collin was 9 years old when a strange twist of fate made him go viral online.
Now, a decade later, Collin is a college athlete, playing football for Lake Eerie College, an NCAA Div. II program in Painseville, Ohio. Now weighing 330 lbs and standing at 6′1, the East Orange, New Jersey native, is an offensive lineman.
Not only is Collin a college football player now, but Collin and Popeye's confirmed online that both parties have struck a NIL deal.
"A lot can happen with the power of the internet behind you!" said Dieunerst Collin. "I can't believe I can say I'm officially sponsored by Popeyes. Thank you to everyone who helped spread the good word!"
Who says becoming a meme doesn't pay off?
READ MORE Popeye's viral Vine kid grows up to win football state championship
Collin made it to Lake Eerie after he was awarded First Team All-Conference, County, and Division, and Second Team All-State in New Jersey. He also lettered for one year and was a team captain for his high school. He's majoring in sports management and in comedian studies.
See a spelling or grammar error in our story? Click Here to report it. Please include the headline.
Copyright 2023 WVUE. All rights reserved.