Family of missing Bienville Parish woman speaks out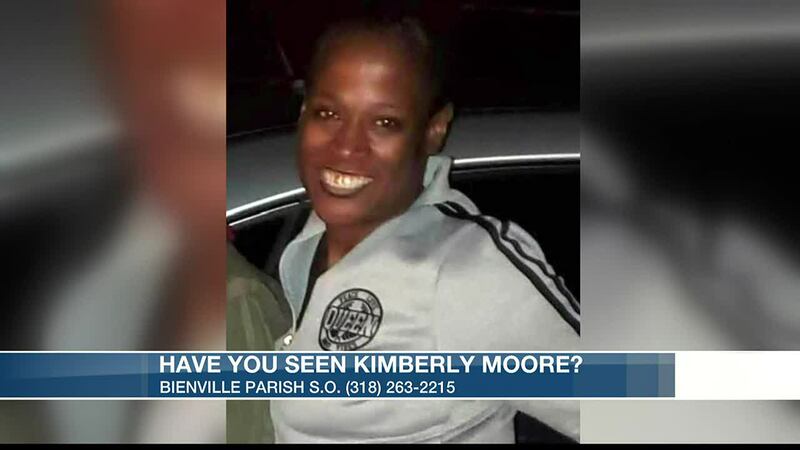 Published: Jan. 11, 2023 at 5:26 AM CST
BIENVILLE PARISH, La. (KSLA) - On Tuesday, Jan. 10, family members of 43-year-old Kimberly Moore spoke to KSLA about what they think happened to the missing woman.
According to Bienville Parish Sheriff John Ballance, Vernon Parker was found fatally shot on Sunday, Dec. 31 in his car. The following day, Ballance received a call from Moore's family who reported the Ringgold woman as missing.
[RELATED: Man found shot dead in back seat of his idling car; woman goes missing]
Last seen by a relative on at about 11:30 p.m. the same day, investigators have since learned that Moore and Parker had become acquaintances and that they were seen together on New Year's Eve. Not only is her family concerned about her whereabouts, Bienville sheriff's investigators believe Moore might have witnessed the homicide.
Moore's family said they have an idea of what happened her and have been searching the area.
"When they killed him, she was in the car. We are trying to find out if someone kidnapped her. It has been over 30 people, that let us walk through their pastures. They got their own ATVs and got out on their own," said Willie Alice Green, Moore's mother.
WATCH THE FULL INTERVIEW>>
Authorities urge anyone with information about Moore's whereabouts or Parker's death to call the BPSO at (318) 253-2215.
Copyright 2023 KSLA. All rights reserved.