New Orleans Krewes can return to original parade routes if adequately secured
Mayor LaToya Cantrell also said that the city is ready to invite and pay for outside law enforcement agencies to help with security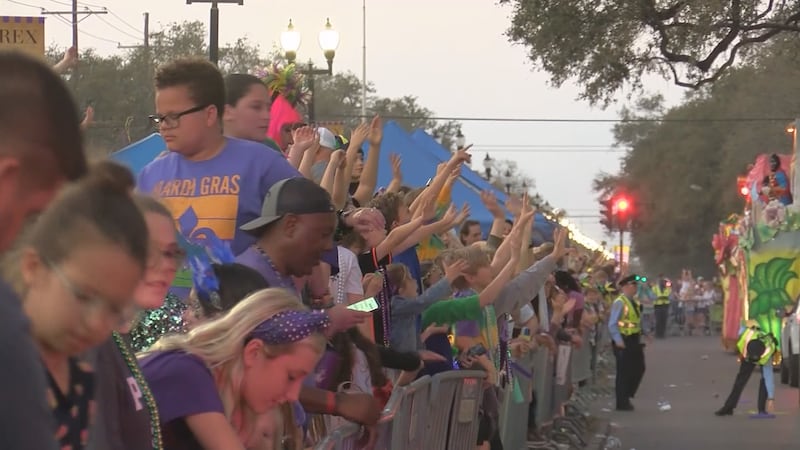 Published: Jan. 6, 2023 at 10:52 AM CST
|
Updated: Jan. 6, 2023 at 11:38 AM CST
NEW ORLEANS (WVUE) - Much of the world is still working to get back to the normal operation of how things used to be before the COVID-19 shutdowns.
That includes Mardi Gras.
Mayor LaToya Cantrell announced Friday (Jan. 6) morning that Mardi Gras Krewes can return to their original parade routes if they are adequately secured. In an effort to help those Krewes meet the security needs to be at full strength, she also announced that the city is willing to invite and pay for outside law enforcement agencies to help the boots-on-the-ground effort to keep paradegoers safe.
Cantrell said that New Orleans will continue to be a "world-class city" and is ready to host major entertainment events like the Ms. Universe pageant that will be held there in one week.
"We are taking the best steps to be safer," Cantrell said. "Carnival is for all of us."
Cantrell also praised the spirit of New Orleans residents for staying motivated to keep Mardi Gras alive during the shutdowns, decorating their homes as "house floats" as a replacement for parades that were not able to roll. She said house floats were a great addition to the annual traditions of Carnival Season and that they should continue and keep house floats alive for generations to come.
See a spelling or grammar error in our story? Click Here to report it. Please include the headline.
Copyright 2023 WVUE. All rights reserved.