2nd wildfire in as many days contained in McCurtain County, Okla.
Countywide burn ban issued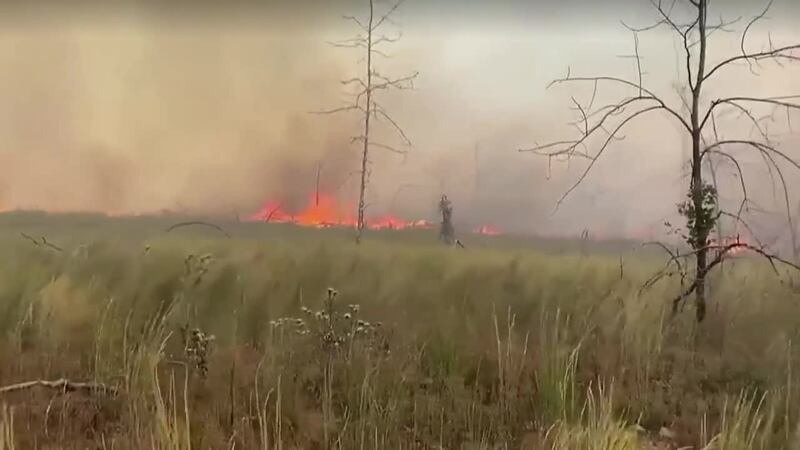 Published: Sep. 26, 2022 at 3:47 PM CDT
|
Updated: Sep. 27, 2022 at 10:33 AM CDT
McCURTAIN COUNTY, Okla. (KSLA) — Authorities evacuated everyone living on Spencer Road at Joe Hough Road as a wildfire burned into the night Monday, Sept. 26 in McCurtain County, Okla.
The sheriff in McCurtain County said Monday night the first was contained around 9:15 p.m.
This happened just northeast of Broken Bow. No structures appear to have been lost.
The wildfire did jump Joe Hough Road into the Spencer Road area. Meantime, many of those who were evacuated were taken to vacant space at McCurtain Memorial Hospital.
The area is under a burn ban as of Monday due to dry conditions in the area.
These dry conditions may have contributed to the second wildfire in as many days. This second fire was burning about four miles northeast of Broken Bow east of US 259 near Canoe Road. This area used to be a wildlife refuge and is now owned by Weyerhaeuser Timberlands.
VIDEO FROM EAGLETOWN VOLUNTEER FIRE DEPARTMENT CHIEF MARK HANNA:
The fire burned quickly and consumed a number of acres of trees that were planted by the company for future pulp and paper purposes. A number of other properties, including some cabins, were being threatened.
The Oklahoma Department of Agriculture-Forestry Services led the fight against the fire. Multiple other volunteer fire departments in the area were on standby if needed.
There's no word yet on what exactly started the fire. A previous fire was located a couple of miles from this location.
The burn ban will remain in place until lifted by county officials.
Copyright 2022 KSLA. All rights reserved.