Shreveport City Council leaves District E seat vacant; governor may have to make appointment
Council members fail to decide among applicants for post once held by James Flurry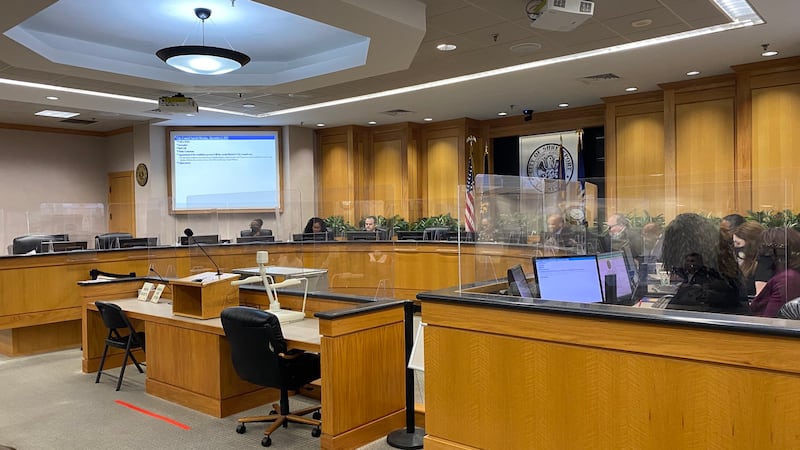 Published: Dec. 6, 2021 at 9:28 AM CST
|
Updated: Dec. 6, 2021 at 10:52 PM CST
SHREVEPORT, La. (KSLA) — In a matter of minutes, a special Shreveport City Council meeting was over.
On Monday morning, Dec. 6, council members met to attempt to select some to fill the District E seat left vacant by James Flurry.
James Flurry announced his resignation in early November.
Applications for the position were taken through the end of November.
The council was split between two candidates for the open seat: Durwood Hendricks Jr. and Matthew Kay. Neither was able to receive a majority vote.
Hendricks spoke before the council on Thursday, citing several positions he's held over the years that he said make him the perfect candidate for the position.
"We have two major corridors: I-49 and I-20. We also have a port. A lot of cities would kill to have that type of basic infrastructure. And I feel that as a council and a city, we need to build upon this to help our city grow."
Kay said the two main things he would focus on if he was selected are economic opportunity and combating crime.
"It's always been something I wanted to do; help my neighborhood, give back to my community," Kay explained.
"I believe that if we work with our local businesses and businesses outside of the area to bring better opportunities and higher-paying jobs, we can grow the community, lower poverty rates and maybe lower crime."
After the second round of voting Monday and with no applicant appointed, the council meeting was adjourned.
The deadline for the council to decide on a temporary replacement is Dec. 13.
Louisiana Gov. John Bel Edwards has the ability to select the person of his choosing to represent District E in the interim. There's no timeline on when that action could happen.
"We will see what happens," Councilman Grayson Boucher said. "I believe it will have to be the full 20 days for the seat to be vacant; and we won't expect the governor to make a decision until that date. In the meantime, we could have another meeting; but I don't see the votes changing."
That's not the only thing on the council members' minds. They also must:
elect commissioners to the new Metropolitan Planning Commission that will be put in place next month,

decide what to do depending upon how the city's bond proposal election turns out, and,

select a new chairman or chairwoman to lead the City Council.
Below is Louisiana Revised Statute 18:602, the state law that governs how to handle vacancies in certain local and municipal offices:
Copyright 2021 KSLA. All rights reserved.