The Good Stuff: Give me 15
How 15 minutes turned into a lifetime for Bill Broadway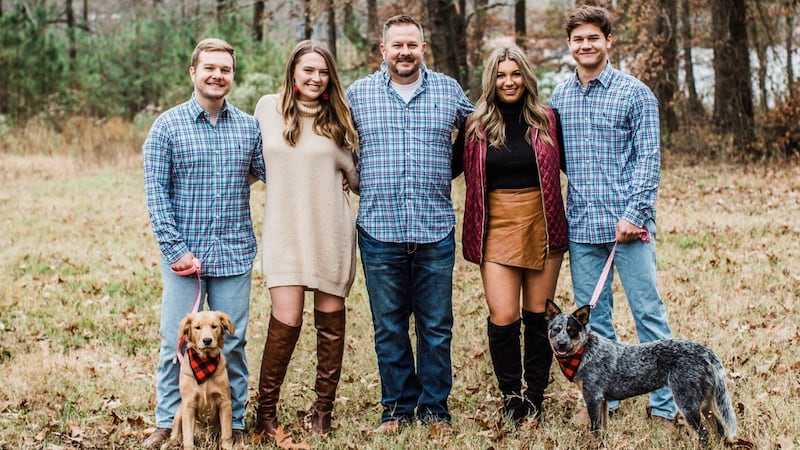 Updated: Apr. 15, 2021 at 4:33 AM CDT
BOSSIER CITY, La. (KSLA) - Bill Broadway is one proud dad.
His son, Lannon, just graduated from nursing school a few weeks ago to begin his career of saving lives.
Or as his dad sees it, he's now continuing his career of saving lives.
"There's no question about it," Bill began.
In November of 2020, Bill nearly lost his life, he feels, if not for his son, who was then a Louisiana Tech nursing student.
"We never thought it would happen to him," said Lannon, Bill's oldest son.
But it did happen to his dad.
Just as the kids were headed into Thanksgiving break, their time together was taken away when Bill tested positive for COVID-19 and was forced to quarantine away from family.
His children stayed next door with their grandfather.
"I was keeping check with him, texting him, 'How are you feeling today'," explained Lannon.
In the beginning, he said his father's responses were swift and positive.
But as the hours and days started to add up, "He started texting me and wasn't making any sense," continued Lannon.
He had bought his dad a portable pulse and oxygen meter and would regularly ask his dad over the phone to read off the numbers to him.
But Bill, admittingly, knew he was beginning to struggle.
"I remember at one point he was asking me questions, and I was having trouble coming up with answers."
After a quick Facetime call, Lannon quickly realized his dad was disoriented and his oxygen levels were falling.
He made the decision to go next door and help his father.
"My fear was that I was going to walk in and he'd be unresponsive," remembered Lannon.
He says he and others raced next door as another family member called 911.
In short order, paramedics had transported him to the Christus Highland hospital in Shreveport.
A tearful Bill remembered that trip well.
"I was wondering if I was going to see the people I loved again," said Bill, wiping away the tears.
But the fight to save Bill's life was far from over.
"I remember walking into the room and telling him that I was going to help him," recalled longtime Christus Highland critical care nurse Nanette Foster.
Despite the efforts of the doctors and nurses, Bill's oxygen levels continued to drop leaving the medical team fearing there was no choice but to place him on a ventilator.
"With COVID patients on ventilated support for a period of time," explained Nanette, "the chances of mortality increases. It just does."
And Bill knew that as well.
But that's when Bill says Nanette decided to take action.
He says Nanette expressed to the doctor, "Give me 15 minutes."
She was determined to find a way to prevent him from being ventilated.
"For some reason, I don't know why, he hadn't been proned before," said Nanette
With the help of other nurses, Nanette flipped Bill onto his stomach.
It's a sometimes tricky move that can open up the lungs and increase the flow of oxygen.
"For that 15 minutes, I'll never forget, she didn't leave my side," remembered Bill.
That first 15 minutes turned into another, and another, with Bill's oxygen levels increasing with every 15 minutes that passed.
"I'm honored and blessed to be a part of it," expressed Nanette.
"But I feel like God would use somebody else if it wasn't me."
Copyright 2021 KSLA. All rights reserved.