Shreveport area hospitals without water due to extreme winter weather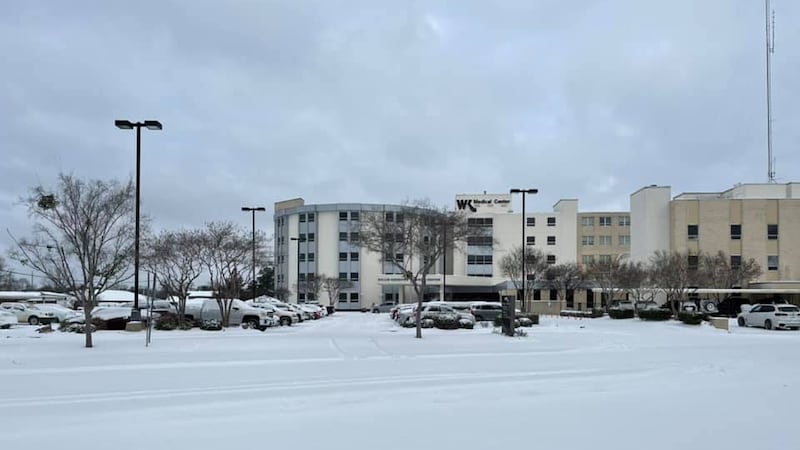 Updated: Feb. 18, 2021 at 8:10 AM CST
SHREVEPORT, La. (KSLA) - Several Shreveport area hospitals are without water Wednesday, Feb. 17 as the ArkLaTex area continues to deal with severe winter weather.
City fire trucks have delivered water to hospitals and water bottles are being procured for patients and staff.
RELATED>>> Boil advisories in effect in the ArkLaTex area
Ochsner-LSU Medical Center & St. Mary's Medical Center
UPDATE - THURSDAY, FEB. 18: Water and heat is stabilized through potable and non-potable trucks bringing water in, but water mitigation measures are still being practiced.
Officials with LSU Health have confirmed that Ochsner-LSU Health Medical Center and St. Mary Medical Center do not have a water source right now because of the winter storm.
Water will likely not be restored until the storm passes. Hospital workers are also using a combination of both commodes (bedside toilet) and bathrooms to conserve water.
Officials say that hospitals are pulling some city water, but it's limited at this time due to widespread water pressure issues.
"Ochsner LSU Health Shreveport is experiencing water pressure issues consistent with the rest of the city. Patient care remains our highest priority as we continue to ensure stabilization of resources during this time where our entire area is facing extreme conditions.
At this time, both Ochsner LSU Health hospitals in Shreveport, on Kings Highway and the St. Mary Medical Center, have limited city water. As a result, we are practicing mitigation measures to conserve water and heat.
We are working with multiple sources to continue providing trucks of potable and non-potable water, as well as ensuring we have several days of bottled water on hand for our staff and patients.
While this storm presents challenges, the collaboration and dedication of our team has been outstanding. Earlier this week, staff began staying onsite to ensure continued care despite transportation barriers. Last night, approximately 170 of our patient care team stayed overnight at our hospitals," health officials said in a statement.
Willis-Knighton Health System
"We are in the same boat as everyone else is in with regard to water pressure and other issues. We have cancelled non-emergency and elective procedures unless absolutely necessary," said a hospital official.
MORE>>> Willis-Knighton Health System cancels non-emergency procedures amid water issues
Copyright 2021 KSLA. All rights reserved.