Pastor, "freedom baby" reflect on King's influence
"Growing up, it never really occurred to me whether MLK Day was a holiday ..."
Updated: Jan. 18, 2021 at 10:37 PM CST
(KSLA) — The Rev. Dr. Martin Luther King Jr. was an inspiration for Dr. Latora Grant Scott.
"Growing up, it never really occurred to me whether MLK Day was a holiday or not. I didn't go to school on MLK Day anyway, ever."
King's struggles hit close to her home in Claiborne Parish.
Grant Scott's parents were active in the fight for equality in Homer.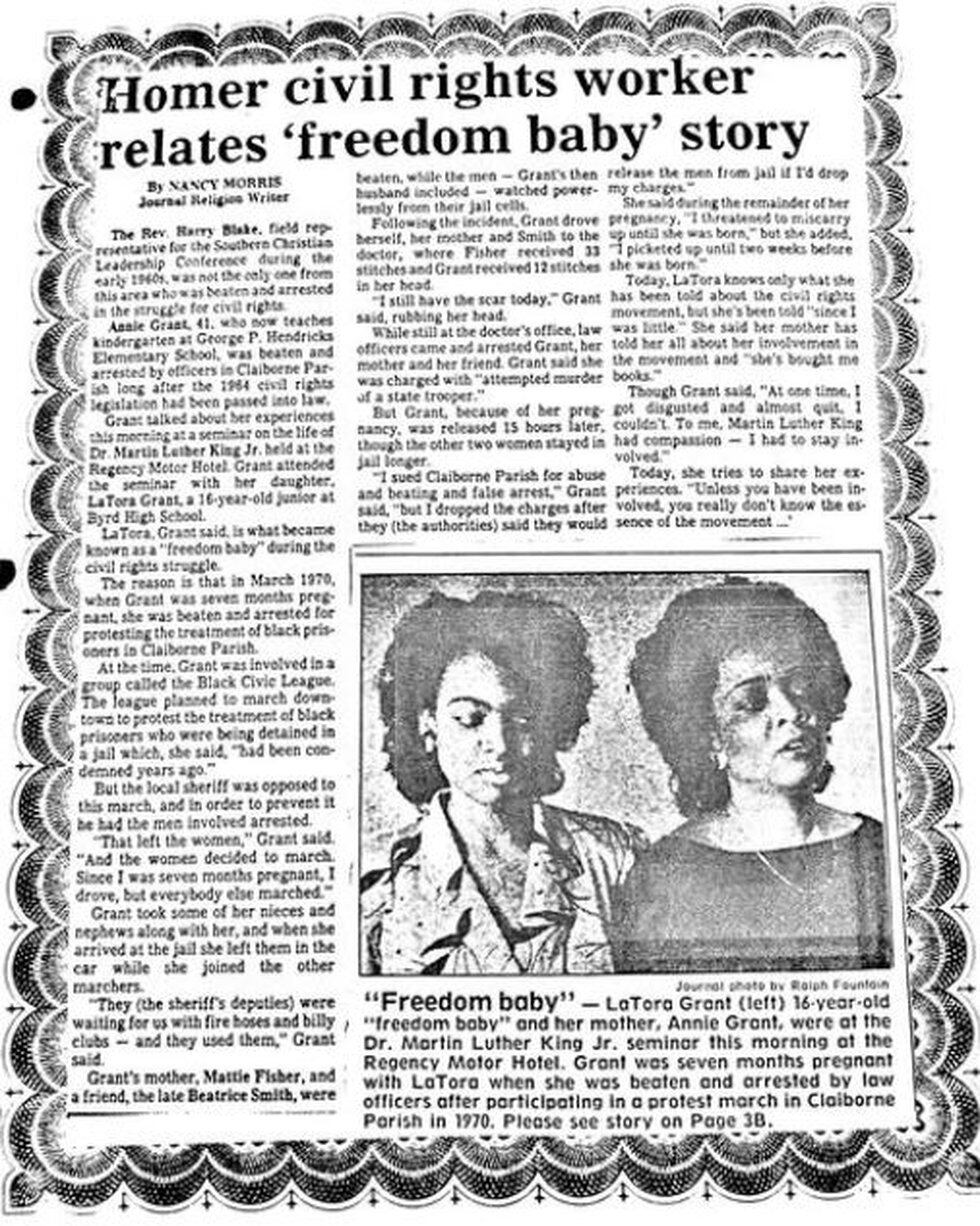 "They were protesting some of the treatment and conditions of Black people in the town."
A newspaper article describes Grant Scott as a "freedom baby" because she almost was born during a protest.
Grant Scott said her parents, Louie D. Grant and Anne Fisher Grant, and several other family members participated in a march in Homer, La.
"They organized this march, the sheriff got wind of it and arrested all of the men. My father was arrested during this."
She said the women, however, still continued on with the plan.
"My Mom was thrown in jail. My Mom, who was seven months pregnant at the time, she actually went into labor with me because of all the trauma."
Grant Scott believes civil rights always are worth celebrating.
"We would always go to events that were in remembrance of what they did. Some people don't have any idea or the knowledge of what Dr. King did."
Dr. Martin Luther King Jr. Day officially became a federal holiday in 1986.
"They had passed legislation that MLK Day was a holiday, but it was only a holiday every other year. His birthday wasn't every other year. Why are we celebrating it every other year?"
Pastor H. Calvin Austin, pastor of Mount Pleasant Missionary Baptist Church, said he was excited to hear that King would be honored. "It was a well-deserved honor for him."
He recalls how "Dr. King said it's hard to fight a person when you wrap your arms around them in love."
Every state observed the holiday starting in 2000. Now, Grant Scott and Austin say, it's a holiday to give back, celebrate and remember.
Copyright 2021 KSLA. All rights reserved.