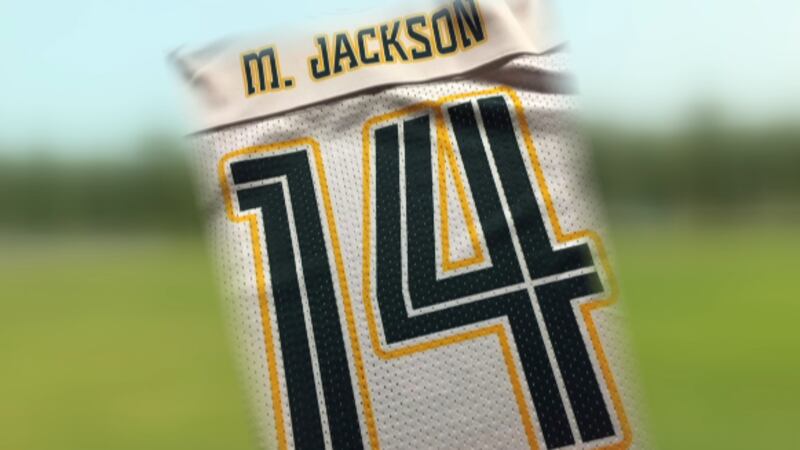 Updated: Oct. 1, 2020 at 10:04 PM CDT
SHREVEPORT, La. (KSLA) - For the Green Oaks high school football team, the first game of the season is this Saturday against Booker T. Washington.
However, the Giants first real opponent this fall won't be found printed on their schedule.
"It's been extremely difficult," begins head coach Terrence Isaac, Sr.
He's talking about the tragic loss of 17-year-old senior Minnion Jackson who was fatally shot on I-220 while driving home after an August 26 football practice.
"Not a day goes by that we don't think about Minnion and what he brought to the team," continues Coach Isaac.
The Green Oaks players, and their practices, haven't felt complete without Jackson in his number 14 jersey.
It's also been a very painful time for Jackson's teammates.
"It's easy to turn away from God and ask, 'Why did this happen'," explains Isaac, who says he and the other coaches have kept a close watch over his grieving players.
"We mostly had questions like, why did it happen like that," says Israel Pierre.
In the days after Jackson's shooting, three people were named as suspects, but no motive was released.
On Wednesday's, Coach Isaac routinely invites Pastor Brian Wilson from Galilee Missionary Baptist Church of Shreveport. According to Coach Isaac, "Pastor Wilson does a tremendous job to get the kids thinking about their future and life that they want to lead."
This past Wednesday before practice, something took place that has never happened before.
"I felt like it was time," says Pierre.
"I'm old enough to realize what I need to do," he continues.
In a city where we have seen our fair share of wrong turns with the streets full of retaliation instead of hope, a dozen Green Oaks players decided at that moment to take a giant leap of faith.
They took a short walk with Pastor Wilson to a spot just off campus directly across the street to Sherika Marshall's front yard.
Those players had decided to be baptized.
"I think it was a release for most of the boys," shares Ms. Marshall.
One by one, the teenagers confessed their faith in God and were dunked in a large metal tub of water.
"I did it for myself because I was already taking a different path," admits Green Oaks player Michael Rachel.
Since Jackson's murder, Rachel admits to being depressed and angry, feeling pulled in a wrong direction.
"Depression and anger can lead down the wrong path itself," shares Rachel.
Now, for the Green Oaks Giants, their goal is nothing short than a trip to the state championship game.
"In his last interview, (Minnion) talked about going to the Dome," Coach Isaac recalls while pointing to a specialized hoodie made in Jackson's honor, with the phrase, "We're coming. Dome or bust" written across the front.
"Our job is to get it done for him," said Isaac.
Copyright 2020 KSLA. All rights reserved.