National laptop shortage makes it harder to find affordable devices for remote work spaces, distance learning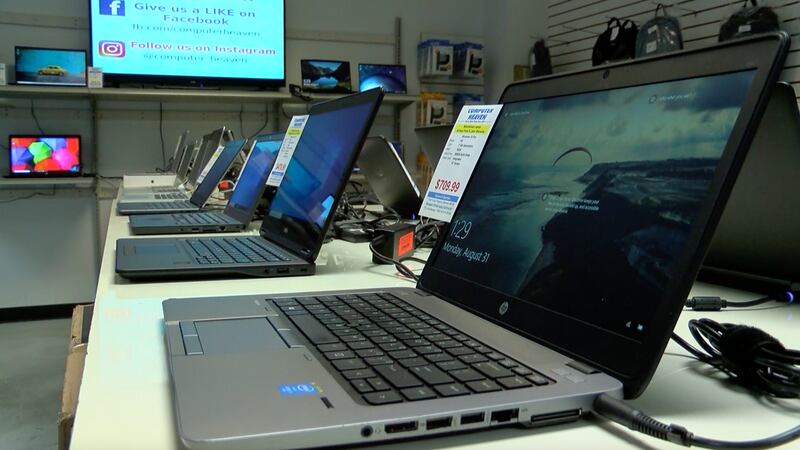 Updated: Sep. 1, 2020 at 4:28 PM CDT
BATON ROUGE, La. (WAFB) - A historic laptop demand is making it more difficult to find a new computer or even a refurbished one.
"Amazon and sometimes Best Buy, they've been sending people online and for certain parts, it's been taking up to 3 weeks for it to come in," said Shandar Bennett, solutions provider at Computer Heaven.
Bennett at the local computer shop on Oak Villa Boulevard says many big-name stores are wiped out or closed altogether.
Store manager Jeremy McConkey says don't expect to see those household name laptops soon, especially Chromebooks.
"New Chromebooks in particular, right now, are completely sold out," said McConkey. "They have a big supply shortage. Lenovo has an extremely large order in right now that they're waiting to get in. But HP and Dell, they're also struggling to get their machines in."
RELATED: EBR Parish School System to transition to hybrid learning model after Labor Day
So, where did all of these laptops go? Bennett explains the shortage is due to three particular events in the last few months.
First, Windows 7 laptops dried up. Users had to make the switch around January because of a software update.
Second, came the stay at home order in March.
"Now we come down to the lockdown, right. Now, we're not getting as many computers coming in, parts aren't as available, prices are going up," said Bennett.
And now, we're back to school distance learning.
Many schools issued Chromebooks to students, but some still aren't able to get their devices up and running right. They come into Computer Heaven desperate for an immediate fix.
"If they did get issued a Chromebook itself… a lot of them are breaking or they are still waiting to get a laptop in place. So they are just looking for something to hold them over in the meantime," said McConkey.
These guys say most families come in looking to spend around $300 for their kids' computer. However, at most electronic stores, all that's left are high-end gaming laptops. That can put families in a tight spot.
"The more you know about computers, the easier it's going to be to find one," said Bennett.
He added that those who aren't familiar with the specifications of computers might have a harder time finding one at the right price.
Bennett suggests you learn the basics about a computer, so you know where to spend your money. Also, seek out local experts to guide you in the right direction. He thinks this shortage could be a long-term problem.
Computer Heaven says they've had better luck at keeping laptops on the shelves compared to big-name stores. They are also in the process of converting older laptops into Chromebooks, so they can provide that option to customers at a cheaper price.
And a shopping tip: if you prefer to shop online at Best Buy or Office Depot, join their mailing lists. You'll be notified when that laptop you've had your eye on is back in stock.
Click here to report a typo.
Copyright 2020 WAFB. All rights reserved.