Union reps: Myers no longer warden at Oakdale FCC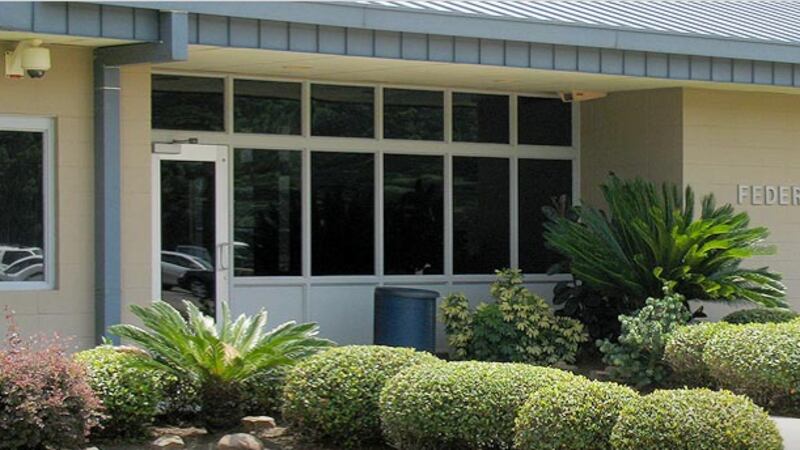 Updated: May. 22, 2020 at 4:07 PM CDT
OAKDALE, La. (KPLC) - Rodney Myers is no longer warden at Oakdale Federal Correctional Complex, two union reps have confirmed to KPLC.
The union filed an "imminent danger" complaint with OSHA and sent a letter to Bureau of Prisons Director Michael Carvajal, outlining employees' complaints against Myers and the prison's response to COVID-19.
Union reps Ronald Morris and Corey Trammel both confirm to KPLC that as of today, Myers is no longer warden at the prison.
"I was told by staff that he suddenly retired, cleaned out his office and turned his BOP equipment in and left the premises and told several staff that he's retiring, that his retirement is final in August and that he would not be back with the institution," Morris said.
KPLC reached out to Bureau of Prisons officials, who say "Warden Myers is on a temporary duty assignment in the South Central Regional Office."
The South Central Regional Office is in Dallas.
Eight inmates at Oakdale FCC have died of COVID-19.
There are currently 91 inmates and 13 staff members who are positive with COVID-19, according to the Bureau of Prisons website.
One of the main complaints by the union was that inmates who tested positive for COVID-19 were mixed in with inmates and staff who had not.
"He was allowing COVID-19 inmates to interact with staff and other inmates and come into close personal contact with them without staff having the correct personal equipment on," Morris said. "And he failed to place those inmates when they became known confirmed positive COVID-19 inmates, place them in isolation as per the guidelines of the Bureau of Prisons."
Morris says part of the danger has been eliminated because inmates who test positive have been isolated. But, he says, an imminent danger still exists.
"Inmates that were known positive and were allowed to interact with staff and inmates for approximately four days spread the contagion and we believe that it will be active again," Morris said.
Director Carvajal,
I would like to inform you of Warden Myers' negligence resulting in staff and inmate endangerment during the Covid-19 Pandemic at FCC Oakdale.
PPE:
1. Staff were not given proper PPE, nor were they trained to don/doff the proper PPE for use during inmate medical trips and while staff worked hospital posts due to suspected Covid-19.
2. Staff were given N95 masks prior to being fit tested per policy. Additionally, staff were assigned to known Covid-19 positive areas, such as local hospitals, quarantine units and isolation units without being fit tested.
3. Myers failed to begin fit testing staff as per the Phase Five memo dated 3/31/20. Myers didn't begin fit testing staff until 4/10/20.
4. Myers instructed staff to send the OSHA respirator medical evaluation questionnaire to non health services staff, violating OSHA, HIPPA, existing policies and the Privacy Act.
5. Myers did not notify staff when they had been exposed to a symptomatic or known COVID-19 positive inmate per CDC guidelines. This prevented staff from taking the necessary precautions to protect themselves, their families, other staff, inmates and the community in which they live.
6. Myers didn't allow staff, who DID NOT have proper PPE, to quarantine for 14 days after known exposure to a COVID-19 positive inmate per CDC guidelines, thereby increasing risk of COVID-19 exposure to other staff, their families, inmates and the community.
7. Myers failed to initiate and utilize the Pandemic flu contingency plan.
On 4/8/20 Myers failed to communicate proper protocol on inmate movement and releases from isolation, putting staff and inmates in danger. Myers released inmates from Isolation Unit Eva 1 into Vernon 1 Unit without educating inmates or staff re: this procedure. When Myers realized his error, he had Capt Trull return the inmates to the isolation unit. The inmates in Vernon 1 Unit thought that Myers had introduced symptomatic Covid-19 inmates into Vernon 1 unit. Resulting fear and confusion lead to the need for munitions being requested from the control center, the use of force by staff and pepper spray being dispensed on 4 inmates.
When modified movement was instituted by the Central Office, Myers continued to allow cross contamination of inmates from various housing units by allowing them to congregate in the Education department. Myers was informed by the Locals of possible introduction of Covid-19 by staff from that department and the Locals recommended that cross contamination of inmates cease to protect staff and other inmates.
Cross Contamination:
1. The Locals began talking to Myers about the need to stop cross contamination resulting from staff traveling between the two institutions on 3/18/20. Cross contamination continued, and after this date there were numerous conversations on separating staff to keep everyone as safe as possible.
2. On 4/11/20, during the visit with the Attorney General's office, Myers lied to the Attorney General Assistant and stated that cross contamination had been stopped. The Captain put out an email to staff on 4/13/20 of roster changes to not cross contaminate between the institutions. Myers himself put a memo out to all staff on 4/13/20 explaining to staff to not cross contaminate.
On 4/13/20, CDC performed a site visit to FCC Oakdale and made recommendations to assist with Social Distancing for inmates. Three of the recommendations, as noted below, have yet to be implemented by Myers;
1. Separate inmates at Trust Fund computer terminals to every other one.
2. Separate inmates at the telephone stations to every other one.
3. In the 6 man inmate sleeping cubicles the recommendation was to empty the middle row of bunk beds and keep only the outer side cubicle bunk beds occupied.
On 5/8/20 Myers and AW D. Silva violated staff's Weingarten Rights and due process by not affording employees union representation during an interrogation of staff for growing facial hair. This resulted in the staff being relieved of duties and sent home to face disciplinary action by the administration resulting in the loss of leave.
On 5/13/20, Myers received 2 inmates from the JPATS airlift. Accepting the inmates goes against your direction , Director Carvajal. Myers was aware of the movement from the manifest issued on 5/8/20 by JPATS. One of the inmates, after arriving in FCC Oakdale, had to be taken to the local hospital for Covid-19 symptoms thus endangering the lives of staff, inmates and the Oakdale community.
Myers stated that he gave all staff cloth face masks on 05/15/20, I have never received a cloth face covering to this date. However Myers gave me a staff check list where my name had been checked off indicating that I was given a cloth face mask. Other staff have informed me that they never received a cloth face mask. I asked for the name of the supervisor who supposedly checked my name off so I could report that person to OIG for lying and falsifying government documents. He refused to inform me of the supervisor's name so he could protect and continue his corrupt ways of not holding supervisors accountable for their actions.
On 5/17/20, Myers stopped providing supervisory staff to work the morning watch shift at the screening site. BUEs are making supervisory decisions, such as restricting other BUE from the institutional grounds and what kind of leave to place the BUE on if they are displaying symptoms. The staff screening tool states to contact the Medical Officer on call. There is no Medical Officer on call schedule posted, nor have they been given instruction by Myers on how to report an employee having symptoms.
Myers began the initiative of testing all inmates for Covid-19 on 5/13/20, after test began returning from the contract lab and 3 inmates that were currently working in food service were confirmed Covid-19 positive on 3/17/20, they were placed in isolation. On 5/19/20, the Union discovered that Myers was allowing confirmed COVID-19 positive inmates to stay living on the compound in the general population housing units and to continue to work in the food service, laundry and commissary areas exposing and further endangering staff and inmates. Myers stated in a meeting on 5/19/20 that he was waiting until all the tests came back from the contract lab before he moved/separated the positive inmates from non positive inmates into isolation or quarantine units. Myers failed to inform the Unions that some inmates are confirmed Covid-19 positive already and his reasoning behind leaving confirmed positive Covid-19 inmates in general population.
On 5/19/20, I requested documentation from Myers concerning a religious accommodation of a BUE by the Central Office Legal Department. I even spoke with Myers on the phone explaining to him the union needed this information in the performance of it's representational duties. He was unwilling to commit to giving the union these documents.
I informed you via email on 3/2/20 of Myers' corruption and dereliction of duties concerning the accountability of supervisors. The supervisor in question is currently being rewarded by Myers, performing in a supervisory role as screening site supervisor for FCC Oakdale.
Here are other major issues the Locals have had with Myers in the past to give a well rounded view of his failure to lead and be an effective SES Warden at FCC Oakdale.
Myers abused his authority and violated Program Statement 3740.02, Staff Entrance and Search Procedures, on 5/2/19 when he failed to allow employee, J. Doyle, Union Representation during a reasonable suspicion vehicle search. By not allowing a Union Representative to J. Doyle, Myers violated J. Doyle's Fourth and Fifth Amendment Rights of the United States Constitution, making this reasonable suspicion vehicle search an illegal search and seizure of property. Additionally, this violated J. Doyle's rights to due process under the Law.
On 11/25/19 I reported Myers to OIG for failing to report Associate Warden Rick Ramirez for plugging his cell phone into an institutional computer on 1/13/19. AW Ramirez's cell phone is an unauthorized accessible device. Myers failed to report a Code of Conduct violation, he failed to hold AW Ramirez to higher standard and he failed to confirm this activity via Symantec Endpoint Protection Software records.
On 12/10/19 there was a radio system upgrade scheduled. Myers failed to allow the unions to address any staff safety concerns, so he canceled the upgrade at that time and rescheduled for 1/13/20. Myers failed to follow the recommendations of the contractor, Motorla, to lock down the institution due to not having operable body alarms and radios. I made Myers and AW Dave Silva aware of my concerns re: the need to secure the inmates in the housing where feasible and to increase staffing. Myers and Silva refused my concerns. Hours into the upgrade, after Capt Trull, while sitting in Myers' office, attempted to contact the shift Lt via radio to no avail, Myers did finally initiate a lock down of the complex. Myers' protracted response placed staff and inmates in danger.
On 12/16/20 staff discovered eight 9mm bullets in the Oberlin Housing Unit. Concerned for the safety of staff and inmates, I asked Myers to lock the institution down, allowing for a thorough search for more bullets and/ or a weapon that dispenses 9mm bullets. He refused, choosing to lock down only the Oberlin Housing unit further endangering staff and inmates. I then contacted RD J. Balthazar to no avail. After involving RVP B. Richmond and National Pres. S. Fausey, RD Balthazar and Myers accepted my recommendation to lock down the institution to conduct a thorough search.
Director Carvajal, as you can see and read, the list of issues are great. The negligence and continually placing of staff and inmates in danger by Myers is exceedingly beyond reasonable. Someone has to step in before more lives are lost due to the reckless behavior of Myers and that someone has to be you, for the sake of staff, inmates and our community.
Ronald Morris
AFGE Local 1007 President
FCC Oakdale
Copyright 2020 KPLC. All rights reserved.