Man goes on Facebook Live as he drives around allegedly threatening to ambush and execute a law officer
He reportedly was wearing a plated vest and had some guns with him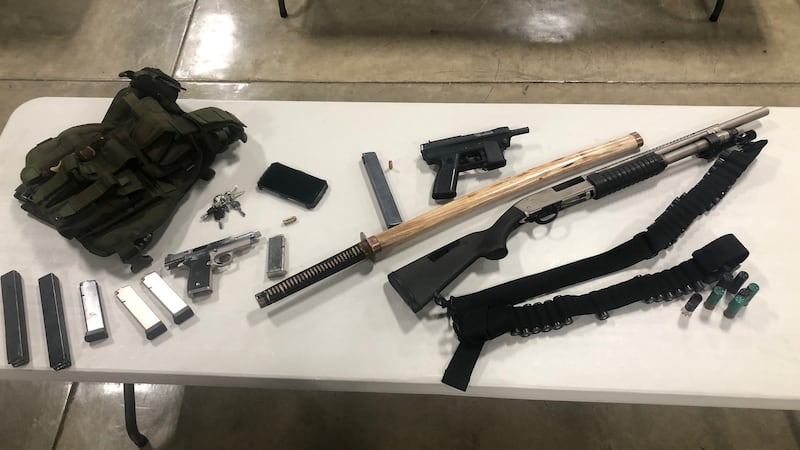 Updated: Apr. 14, 2020 at 11:53 PM CDT
TEXARKANA, Texas (KSLA) — A man was streaming on Facebook Live as he drove in East Texas.
Problem is, he was driving around allegedly saying he was searching for a law officer alone in the Texarkana area so he could ambush and execute the officer, authorities say. And at one point, he reportedly could be heard saying he had just passed an officer on the service road but was having to turn around to go get him.
It was about 10:30 p.m. Saturday when people started calling 911 to report the livestreaming video, according to Texarkana, Texas, police.
Officers who viewed the live video feed for themselves figured out the man was driving a late-model black Chevrolet truck in the area of St. Michael Drive just west of Interstate 369, according to a post on the Police Department's Facebook page.
Multiple responding officers saw such a vehicle turn onto Kings Highway from St. Michael Drive then pull into the parking lot on the Sonic restaurant on Kings Highway.
The driver fled at a high speed when officers activated their emergency lights. The pursuit took them onto Hampton Road and headed toward Redlick.
One of the vehicle's tires was deflated by a spike strip deployed near Shiloh at Leary roads, but that didn't stop him. He continued to flee at a high speed until he came to a stop on Texas Highway 82 in Hooks.
The driver sat in his vehicle with his music blaring and ignored officers' commands to exit, police say.
About 25 minutes later, he stepped out of his vehicle wearing a vest with an armed plate and surrendered to authorities. Several loaded guns also reportedly were found in his truck.
Texarkana, Ark., resident Aaron Caleb Swenson, 36, has since been held in the Bi-State Jail on one count each of making terrorist threats against an officer, evading detention with a vehicle and unlawfully carrying a weapon.
His bond has not yet been set.
Copyright 2020 KSLA. All rights reserved.