'Panic Buying' blamed for hand sanitizer shortage
Do you have any hand sanitizer?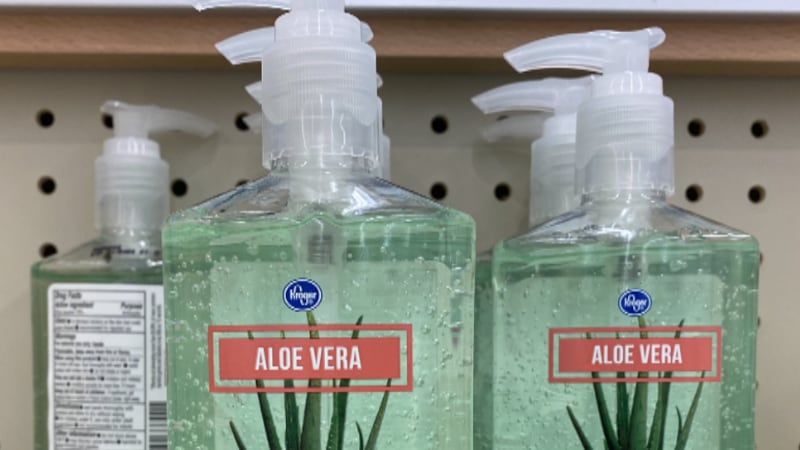 Updated: Mar. 4, 2020 at 7:22 PM CST
(KSLA) - News of the coronavirus is spreading quickly — and many of us have already taken steps to protect ourselves and our families.
However, that's led to certain shortages of certain products — including hand sanitizer.
So, we paid a visit to five different stores including two drug stores, a grocery store and two retail giants.
At the Walgreens store at Youree Drive an Southfield Road, for example, that store ran dry Tuesday.
At a Shreveport Kroger, only 8 bottles of store-brand sanitizer remained, although there were still lots of travel-size bottles available.
At CVS, at the corner of Youree Drive and East 70th Street, we found just two hand sanitizer wipes remained on the shelves.
In the same shopping area, inside the Target store, we discovered just 4 bottles left.
And at the Walmart store at Youree Drive and East Bert Kouns, they too were sold out of hand sanitizer.
We asked Jacqueline Johnson, a local hospice employee if she happened to have any hand sanitizer left of her own.
"Got a pocket full!" Johnson then showed us her handy, pocket-size supply.
Then there's Tylar Bedford, a registered nurse who told us she too has a supply of hand sanitizer; but, she tries not to use it too much.
"I'm in the health profession so I stick to hand soap and water. I'm not a big fan of hand sanitizer because of the alcohol content."
The alcohol, said Bedford, dries out her hands. We then told her about the store shortages of hand sanitizers.
"Oh wow. So I'm guessing it was tied to the coronavirus? But, I mean, the flu (has) been around. That's why I'm just shocked that it's a big cry out for, you know, help now. I mean, it's the same thing, wash your hands."
Like so many people in the medical field that we came across this story, people like William Pitts had not heard anything about a shortage.
"No, I work at the V.A. So, we have hand sanitizer."
In fact, when we explained to Pitts that so many of the local drug stores, grocery stores and department stores are running out, it surprised him.
"Yeah it does. It really does, especially when, you know, hand sanitizer is really readily available. So it does surprise me."
Pitts is right. Analysts explain there is no shortage of production, at least at the moment.
Instead this immediate shortage is blamed on something called panic buying, as the public grabs as many germ-fighting products as they can find and buy.
"Yeah, just like when we have a bad storm all the milk and the eggs is gone, you know."
Others, like local home builder Chip Welch are not surprised there's a been a run on hand sanitizers.
"No, it doesn't surprise me. But I'm not worried about all that stuff either."
Many of those outside the medical field already had a supply of hand sanitizer as well, long before news of the coronavirus. That includes Robin Clark.
"I just used some in the car because I had some."
Clark said people should already be more aware of the importance of washing their hands and that so many people buying hand sanitizer now is a good thing.
"I'm glad the coronavirus news is out there, making people think about germs. But they should have been thinking about it ahead of time."
There are many home recipes to make your own hand sanitizer.
But, to be effective health experts say it needs to have the strength of at least 60 percent alcohol.
Copyright 2020 KSLA. All rights reserved.