Shreveport Aquarium is looking for Mardi Gras beads
If you donate five pounds of beads they'll give you one free child's admission pass.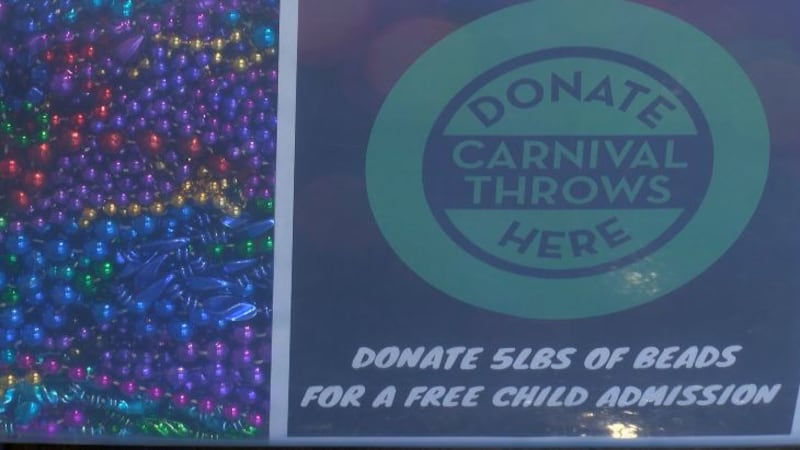 Updated: Feb. 25, 2020 at 7:01 AM CST
SHREVEPORT, La. (KSLA) - There's been plenty of Mardi Gras parades over the last month — which means many people are left with lots of beads.
The Shreveport Aquarium is looking to take them off your hands and also give you something free in return.
If you donate five pounds of Mardi Gras beads to the aquarium they will give you one free child's admission pass. If you have multiple children you'll just bring five pounds of beads for every child.
All of the beads collected will then be donated to ArcGNO in New Orleans.
The organization provides jobs for those with special needs and disabilities by allowing them to sort process beads. The beads will then be resold to Mardi Gras krewes to be reused the following year.
"I know for me personally as a teacher, I'm always looking for opportunities, and how fun would that be to sort beads in New Orleans," said Mary Irvin.
Irvin is currently a special needs teacher at North Caddo High School and believes her students and others with disabilities all deserve to have the same opportunities as everyone else.
"We want our students to have the quality of life that every student deserves, and we know that one of the components of that is to be independent and have a job and make friends and keep growing," she said. "Without that then their life doesn't have the quality that they deserve."
Senior aquarist Kala Leyden says this drive is also a way for their staff to continue informing the public about the importance of keeping the waters clean for animals.
"Not only are we giving back to the community, we are also keeping these beads from entering our waterways," she said. "So think of all the fun throws that get thrown around (during) Mardi Gras season, and it's a great time, but what happens to all of that after the parade is over?"
Leyden says last year ArcGNO was able to recycle 173 tons of beads and hopes to help them increase that number this year.
The bead recycling drive will wrap up at the end of this month.
Copyright 2020 KSLA. All rights reserved.