Tires, wheels being stolen off vehicles near interstates
One of those hit is a new car that a National Guardsman bought 3 days after he recently returned from overseas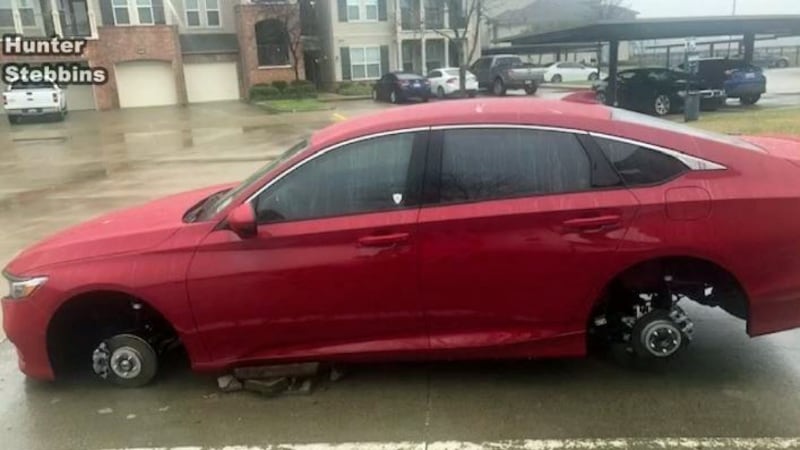 Updated: Jan. 24, 2020 at 5:28 PM CST
BOSSIER CITY, La. (KSLA) — Wheels and tires again are being stolen off vehicles.
And detectives think it's a crime ring at work in the parking lots of apartment complexes near Interstate 20 and Interstate 220 in Bossier City.
Most recently, the wheels were stolen off two vehicles early Thursday morning.
One of those is a Honda Accord Sport belonging to a National Guardsman who recently returned home.
"I saw it and I was just awestruck, you know, about my new car," said Le Rivage resident Hunter Stebbins, who bought the new car three days after returning from overseas.
"It really makes you kind of feel violated that they, you know, come into your house, your place that you pay for and they steal from you."
On the same night, another tenant a few buildings down in the same apartment complex had the wheels and tires stolen off his truck.
"Get a job. Go work for your own stuff, yeah, yeah. Get a job," Donald Balthazar advised.
Two other wheel and tire heists happened earlier this month; and they came after several others in the past six months, police spokeswoman Traci Landry said.
"What we're seeing is that they're hitting apartment complexes, and those complexes are near the interstate."
Now detectives are building a potential profile of the thieves, she added.
"There's a possibility that these people are not from the area, that they're coming in from out of town."
Detectives also suspect that the thieves might be using a box truck or van to haul off the stolen wheels and tires.
"If you live in these areas, please be on the lookout for any suspicious activity that you see," Landry said.
Copyright 2020 KSLA. All rights reserved.