Fake money pops up in ArkLaTex; can you spot it?
You will lose that money if you wind up with a counterfeit bill, the Federal Reserve says.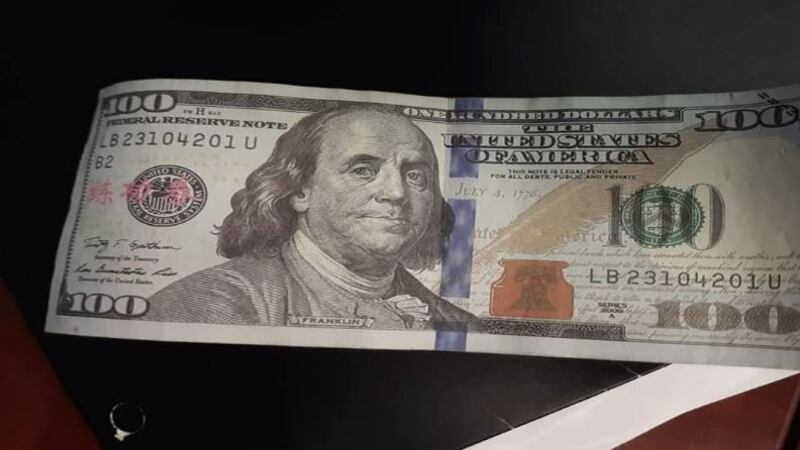 Updated: Nov. 24, 2019 at 11:36 PM CST
(KSLA) — Counterfeit bills have been popping up in the ArkLaTex.
It is important to know the differences between genuine currency and counterfeit notes because you will lose that money if you wind up with the latter, the Federal Reserve says.
That's because:
A counterfeit note cannot be exchanged for a genuine one, and,

It is illegal to knowingly pass counterfeit currency.
Just ask police in Texarkana, Texas, and Shreveport. They recently reached out to the public for help identifying people who passed or tried to pass fake money.
Shreveport police posted surveillance camera photographs on Facebook of a man who is a suspect in four monetary instrument abuse investigations involving counterfeit bills. One photo shows a sedan.
In another Facebook post, Texarkana authorities share two images of a woman who used a fake $50 bill to buy something at a business on North Stateline Road a few weeks ago. Police note that she was driving a white, older model BMW SUV.
The Federal Reserve Board issues notes in seven denominations: $1, $2, $5, $10, $20, $50 and $100. Click here to learn more about each one's design and security features.
TO HELP:
Call Texarkana Area Crime Stoppers at (903) 793-STOP or Texarkana, Texas, police at (903) 798-3116.

Contact Shreveport-Caddo Crime Stoppers by calling (318) 673-7373, visiting the organization's website, lockemup.org, or using the P3 Tips app.
Crime Stoppers is a nonprofit that pays cash rewards for information that leads to the arrest of the individual or individuals responsible for crimes.
Copyright 2019 KSLA. All rights reserved.