Second-graders use puppies to teach reading, math
Educator says students' test scores have improved as a result of getting quality time with the young animals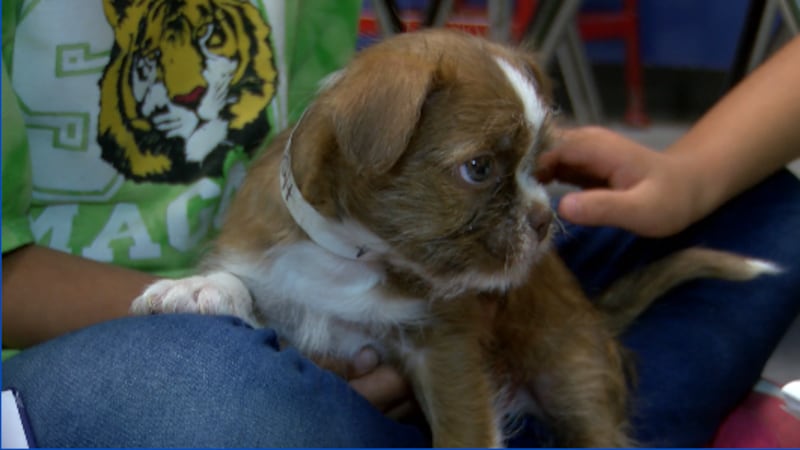 Updated: Oct. 7, 2019 at 3:50 PM CDT
SHREVEPORT, La. (KSLA) — Learning to read and explaining math can be a daunting task for a second-grader.
But South Highlands Elementary has a four-legged, furry, wide-eyed solution: puppies.
Yes, puppies.
For the second year in a row, Robinson's Rescue has supplied a handful of puppies to help children build confidence in the classroom.
"The kids light up and they're so willing to read to these dogs," said Mary Harris, principal of the magnet school in the 800 block of Erie Street. "They're just so much more eager to do it and it's not threatening."
Broken up into several small groups, the students take turns reading to the tiny dogs and explaining logic in equations.
"It's just the simple things in life that matter so much," said Dr. Andrew Master Everson, president of Robinson's Rescue, a low-cost spay and neuter clinic in Shreveport. "When you put a dog with them, their confidence just flourishes and they bloom."
This child-approved lesson doesn't just benefit the students, the puppies themselves learn along the way.
"When they're in their small groups with the puppy, I can just see the puppy's so happy," Everson said. "It's priceless because they really get that love and attention that they might not have seen in days or weeks."
Harris claims the students' test scores have improved as a result of getting quality time with the puppies in the classroom.
Copyright 2019 KSLA. All rights reserved.