Louisiana early voting to feature high-tech touchscreen devices
Early voting runs Saturday through Oct. 5, with the exception of Sunday; hours are 8:30 a.m.-6 p.m. each day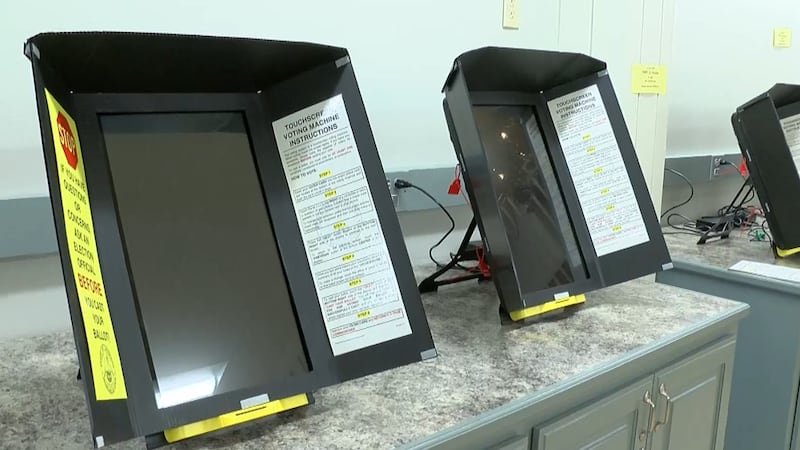 Updated: Sep. 26, 2019 at 11:11 PM CDT
SHREVEPORT, La. (KSLA) — All Louisiana voters who take part in early voting this time around will be the first to get a good look at the state's new voting machines.
Linda Feazell, Caddo's acting registrar of voters, gave KSLA News 12 a trial run of the touchscreen voting machines in the registrar's offices just across the street from the eastern side of the Caddo Courthouse.
Louisiana voting officials are rolling out these ballot boxes just in time for early voting in the 2019 elections.
In fact, this is considered a test run for the 2020 election, when the machines will be used for much more than just early voting.
Feazell also wanted to ease any concerns voters might have about how the election is carried out locally.
"On election night, we print out the results and we take it to the back and everything is tabulated. You have a flash drive in here. It's under lock and key."
Simpler, smaller and lighter than the sometimes cumbersome voting machines of the past, those relics have now given way to what Feazell likes to refer to as souped-up laptop computers.
Caddo has 13 of the machines for early voting plus one used for training and answering questions, she said.
They are less vulnerable to any hacking or tampering because they each is under lock and key, Feazell explained.
That's when a fellow Caddo registrar staff member added, "They have straps on them, as well."
Are they connected with the internet?
Feazell gave a definitive response.
"No. And I will go on the record as saying that every vote is counted on election night, whether it be paper or the machine."
So Feazell and others will be watching these machines very closely during this early voting that gets underway Saturday.
The voting machines are part of the ImageCast® X (or "ICX") voting system leased from Dominion Voting Systems.
Early voting is held 14 to seven days prior to any scheduled election at each registrar of voters office or at designated locations in the parish.
Oct. 12 is the date of the primary election, which includes the gubernatorial race.
Early voting will runs through Oct. 5 with the exception of Sunday. Hours are 8:30 a.m.-6 p.m. each day.
Copyright 2019 KSLA. All rights reserved.