Master P discusses 'Global Mixed Gender Basketball' coming to Shreveport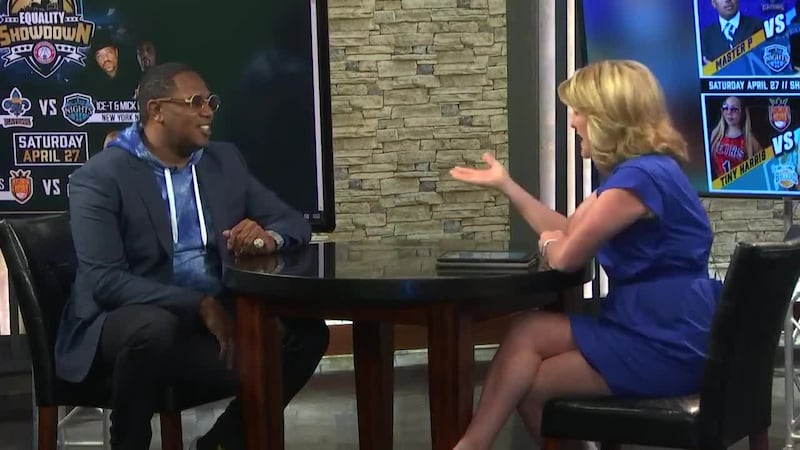 Updated: Apr. 12, 2019 at 5:19 PM CDT
SHREVEPORT, LA (KSLA) - New Orleans Gators' Owner and celebrity Rapper Percy Miller, also known as 'Master P', stopped by in-studio to discuss a global and community-wide event he's bringing to Shreveport this month to promote equality.
His organization, Global Mixed Gender Basketball, will showcase a co-ed professional basketball tournament featuring NBA, WNBA, semi-pro and college players from across the nation.
During half-time, fallen Shreveport Police Officer Chatéri Payne who was killed in January of this year will be honored.
After the in-studio interview, Miller and his business partners, Derrick Smith and Duan Somers, co-owners of the Washington Fusion, sat down with the KSLA News 12 Digital Team to talk about their inspiration in creating Global Mixed Gender Basketball and how they want to impact communities.
"You're not looking at a man or a woman, you're looking at who has the greatest talent on the floor," said Miller. "When I was growing up, the best basketball player that I played against was my cousin which is a female that could really play. She was so talented and she played harder than the guys. Once I was able to beat her, I said, "You know what, I'm going to go to college."
That's when Miller said he decided to play in college for the University of Houston, then moved on to the professional league playing for the Charlotte Hornets and the Toronto Rapids.
"It's a lot of great things ahead. The game of basketball will soon be changed forever," said Smith as he talked about Coach Lisa Leslie, former Los Angeles Sparks basketball player.
When asking the business owners what sparked their inspiration to come together to make this movement, they responded that they want to make a difference within the community.
"Look at us. You don't see too many people of our color coming together on something positive," said Miller. "As far as sports, we don't own anything. We have African Americans that love the sport of basketball and coming together to make a difference."
The event in Shreveport will be held on April 27 at George's Pond at the Hirsch Coliseum, located at 3207 Pershing Blvd. It begins at 5:00 p.m.
To purchase tickets, click HERE.
Copyright 2019 KSLA. All rights reserved.